Photo Gallery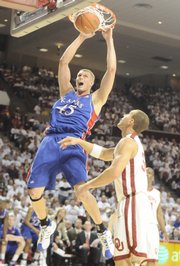 KU at OU
Audio Clips
2009 KU-OU Feb. 23
Norman, Okla. — Not a single returning starter from a year ago, only one player who logged more than four minutes in the national-title game and an unavoidable heavy reliance on freshmen added up to no chance for Kansas University to extend its streak of at least a share of consecutive Big 12 regular-season titles to five. Right? Wrong.
The Jayhawks need not apologize for standing alone atop the Big 12 standings because Oklahoma's Blake Griffin, the nation's best player, watched the game in street clothes. That doesn't explain away Kansas going into Manhattan and Lincoln and coming out with victories in places where Missouri lost. It doesn't explain how a team that starts two freshmen, two sophomores and a junior, a bunch that in the summer had trouble winning all its exhibition games in Canada, is 12-1 with three conference games remaining.
Question: Would Kansas, which defeated Oklahoma, 87-78, Monday night in the Lloyd Noble Center, have lost if Griffin played? Answer: It doesn't matter. You confront the challenges life presents you, after good breaks and bad, and you count up the score at the end.
Through the years, KU director of golf Ross Randall has offered a standard response to golfers good and challenged who begin to rattle off a litany of excuses, from a bump in a green to a rake in a trap that undid them. "What'd you shoot?" Randall never has been afraid to interrupt. (My answer: None of your business).
Face it, it's what you do with life's breaks that determines outcomes. Early in the game, Kansas freshman guard Tyshawn Taylor banked in a straight-away jumper, but no asterisk in the box score indicates that. Somehow, Taylor turned his ugly basket into a confidence-booster, and the box says Taylor scored 26 points, dished three steals, turned the ball over once and had a steal. It says he hit three of five three-point shots and defended Tony Crocker well enough to limit him to nine points.
"His best game in college," was how Kansas coach Bill Self summed up Taylor's night.
For reasons of pride, it couldn't have come on a better night for Taylor. Kansas recruited Taylor and the more highly coveted Willie Warren, who ended up choosing Oklahoma. Taylor knew he was a fall-back option in the event Warren didn't commit to Kansas. Taylor signed with Marquette under the understanding Dominic James would leave early for the NBA. James returned, Marquette's coach, Tom Crean, left for Indiana. Taylor was granted his release and committed to Kansas.
"I kind of played with a chip on my shoulder because of that," Taylor said being second fiddle to Warren. "I've been thinking about that. Coach was recruiting him a lot. He was supposed to come here, and coach kind of hesitated in recruiting me because of him. He played a great game. He couldn't have played much better. He played well. I played well. We came out with the W. It feels good. I felt like I had something to prove, and I kind of feel like I proved it."
Warren, who led the Sooners with 23 points, is better than Taylor, but that doesn't mean he's a better recruit. Taylor will stay in college longer.
"Coach Self lucked out with me, I guess," Taylor said, flashing a huge grin.
Nothing wrong with a little luck here and there.
Copyright 2018 The Lawrence Journal-World. All rights reserved. This material may not be published, broadcast, rewritten or redistributed. We strive to uphold our values for every story published.