Audio Clips
2009 KU-NU Feb. 21
-->
Photo Gallery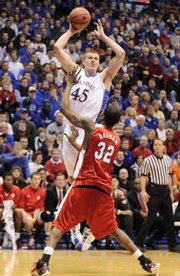 KU vs. Nebraska
-->
-->
KU scoring
Collins 22 (8-for-12 shooting), Aldrich 18 (7-for-11 shooting, 12 rebounds), Morningstar 8, Markieff Morris 6 (9 rebounds), Taylor 6, Marcus Morris 5, Releford 3, Kleinmann 2.
KU was 27-for-57 from the floor (47.4 percent), 6-for-18 from three (33.3 percent) and 10-for-18 from the free-throw line (55.6 percent).
NU was 21-for-55 from the floor (38.2 percent), 5-for-18 from three (27.8 percent) and 6-for-10 from the free-throw line (60 percent).
KU out-rebounded NU, 46-24. The Jayhawks had 15 turnovers to the Huskers' 10.
FINAL: KU wins 70-53
Harley takes a fast-break pass off his nose. The fans have to laugh at that one.
Collins and Aldrich check out. They combined for 40 points on 15-for-23 shooting (65.2 percent).
With a 20-point lead, KU clears its bench. The Jayhawks haven't had many opportunities to get all their players in this year.
On a feed from Brennan Bechard, Matt Kleinmann gets a quasi-dunk, grazing rim with his hand on layup. The bench loves it all the same.
KU comes away with a 17-point victory.
KU 64/NU 48 — 3:27 left in game
Aldrich gets a couple shots in the lane to go down, as KU extends its lead to 18.
Nebraska fights back, though, as Velander and Anderson hit consecutive threes to trim the lead to 13.
Aldrich goes over Anderson for a rebound, and Anderson is (literally) screaming mad. He yells out his frustration, and the KU fans razz him a little bit after his emotional outburst.
KU 56/NU 41 — 6:59 left in game
Wow, Tyrel Reed just had his shot swatted out of bounds by Dagunduro. Hate to bring up bad memories, but Hakim Warrick, anyone?
With the shot clock running down, Collins creates something out of nothing, draining a step-back, fallaway three. The crowd, which has been quiet most of the second half, roars in approval.
This might be Markieff's breakout game. Following a Thomas miss, Markieff skied over everyone else and slammed home the follow. Self smiled wide while clapping on the sideline. After an NU timeout, Markieff also received a jumping chest-bump from his brother.
Morningstar hits a three, and KU has gone on a nice run to extend its lead.
Collins is feeling it as well. He takes a couple crossovers to clear space, then drains a three from the top.
KU 45/NU 35 — 11:33 left in game
Another block by Markieff Morris. This is some of the best defense we've seen from him this year.
He contributes on the other end as well, tipping in a Collins miss.
Marcus Morris picks up his fourth foul after getting tangled up on a loose ball. Quintrell Thomas checks in for his first action today.
KU 41/NU 32 — 15:02 left in game
After scoring just five points on 2-for-8 shooting in his last game against Colorado, NU guard Steve Harley already has eight points this afternoon. He scores NU's first two baskets of the second half, then scoops a pass inside to Chris Balham for a layup. The Huskers start the half on a 6-1 run, and Self uses his third timeout.
NU has started to press in the second half. I'm a little surprised the Huskers didn't try that more in the first 20 minutes.
Aldrich makes one of two free throws, and he's just 4-for-9 from the line today. Maybe he's learning to shoot again without the mask.
Markieff Morris scoops up a Collins miss and puts it back in for two. He's quietly having a great game.
KU scoring
Collins 10 (4-for-5 shooting), Aldrich 10, Marcus Morris 5, Taylor 4, Morningstar 3, Releford 2.
KU was 13-for-26 from the floor (50 percent), 3-for-10 from three-point range (30 percent) and 5-for-9 from the free-throw line (55.6 percent).
NU was 10-for-28 from the field (35.7 percent), 2-for-10 from three (20 percent), and 1-for-3 from the line (33.3 percent).
KU out-rebounded NU, 20-13. The Jayhawks had five turnovers to the Huskers' three.
Quick halftime thoughts
• We haven't heard much from Cookie Miller this game. No points on 0-for-1 shooting. Even when Aldrich was guarding him, he looked hesitant to take a shot.
• It seems like KU has more than five turnovers. But the stats don't lie, so first-half kudos to the Jayhawks for taking care of the basketball.
• Nine assists on 13 made baskets is a statistic that Self will like.
• Another tough half for Little, who was 0-for-3 and received just seven minutes. This is the kind of game, with NU's small lineup, that he should shine.
KU 34/NU 23 — Halftime
Former Jayhawks Dave Robisch and Jeff Boschee are both in attendance, and both received nice ovations when they were shown on the video board.
Smart play by Aldrich, who fired up a shot early in the shot clock with 45 seconds left. He made it, and that also will allow KU to get two possessions at the end of the half instead of one.
That extra possession paid off, as after an airballed three from Taylor, Morningstar tipped the rebound to Aldrich under the basket for a lay-in and foul. It also was significant because it was Anderson's third foul.
Aldrich's layup came with 1.9 seconds left. The Jayhawks keep up their reputation as perhaps the best team in the nation in scoring on first-half buzzer-beaters.
KU 27/NU 16 — 3:21 left in 1st half
Two straight playground-ball baskets by Collins. On both possessions, he used his quick crossover to create some space, then buried jumpers from 16-18 feet.
In transition, he didn't hesitate in pulling up from 15 feet again, and this one swished through as well. Timeout NU, as Collins has the Jayhawks' last six points.
NU coach Doc Sadler's timeout didn't help. Collins was left open from 19 feet again, and he rattled in another jumper. He has eight points on 4-for-4 shooting with three assists and no turnovers.
KU 19/NU 12 — 6:45 left in 1st half
Steve Harley finally gets a jumper in the lane to go down to break an NU scoring drought. The Huskers hadn't scored in 7 minutes, 5 seconds.
NU finds some rhythm after that, as Ryan Anderson puts in a three and layup for a 7-0 run.
Paul Velander flops again, but again it doesn't work. Aldrich finishes with a short 4-foot jumper to break NU's mini run.
KU 13/NU 5 — 11:29 left in 1st half
Mario Little continues to battle a shooting slump. He misses a guarded 17-footer badly, then also shoots too strong on a driving attempt.
Collins penetrates inside, then scoops out a nice pass to Taylor for a three. Good no-call by the officials, as a Nebraska player was trying to sell a charge on Collins when there was little-to-no contact.
Marcus Morris pulls up and swishes a three after a steal from his brother. It's always funny to hear the crowd's reaction to a three from a big guy. It starts with groans that turn into hopeful cheers that turn into raucous screaming when it swishes through.
KU's playing some great man-to-man defense. Markieff Morris blocks an NU shot attempt with one second left on the shot clock, and KU will take over after the violation.
KU 6/NU 5 — 15:57 left in 1st half
KU's bigs are doing a much better job of passing out of double-teams. Twice, Aldrich has composed himself inside, then looked to the other side of the court to find a teammate for an open three. Brady Morningstar cashes in one of the looks, while Tyshawn Taylor's three rims out.
3:03 p.m.
No facemask for Cole.
2:59 p.m.
Cookie Miller might be 5-foot-9 today. That's because he has his afro spiked up about four inches.
2:50 p.m.
Kansas City Chiefs play-by-play man Mitch Holthus will be one of the TV guys for this game. It's interesting to see him back in a college setting.
I'll go ahead and throw my prediction out there. Obviously, if I'm KU coach Bill Self, turnovers scare me quite a bit. I don't think it's a problem that can be fixed in a couple days.
I'll say KU turns it over 24 times today. That's a ton, but NU has had problems scoring, so the Jayhawks still manage to eke out a win in a sloppy game.
Prediction: KU 66, NU 59
2:23 p.m.
Here are some quick notes about Nebraska, which comes in with a 16-8 record.
• NU won its last game, 46-41, over Colorado. In that game, NU held CU without a field goal for the first seven minutes of the game. Ade Dagunduro led the Huskers with 18 points.
• Nebraska has averaged 51.5 points scored in its last four games. The Huskers have not scored more than 58 points during that stretch.
• Dagunduro is averaging 14.3 points per game in conference play — the exact same scoring average as KU's Cole Aldrich has in Big 12 action.
• NU's opponents average 17.6 turnovers per game. The Huskers also average 9.0 steals per outing. In the teams' first matchup, KU turned the ball over 21 times — its second-highest total of the season.
• The Jayhawks are worst in the conference in turnovers, averaging 16.3 per game in league play.
• If the Big 12 season ended today, NU would be the No. 4 seed and would get a first-round bye in the conference tournament.
• In conference play, NU is last in the league in field-goal percentage (40.5 percent). KU, meanwhile, is tops in the conference in field-goal percentage defense (37.5 percent).
• KU has won 11 straight against Nebraska.
And last but not least …
• The Huskers are 4-1 since receiving a pep talk from former football coach Tom Osborne. How that guy is not the governor of Nebraska is beyond me.
1:55 p.m.
I found this blog from former Husker Jake Muhleisen talking about his experiences at Allen Fieldhouse. It's a good read if you have some time, as he's complimentary of both the Fieldhouse and KU's fans.
1:25 p.m.
Welcome back to the Newell Post Live, coming to you from Allen Fieldhouse where the No. 15 Kansas Jayhawks are getting set to take on the Nebraska Cornhuskers.
I asked KU coach Bill Self yesterday to tell me one team statistic he was happy with and another that he was most concerned about.
Here was his response:
"I think the biggest stat — the two biggest stats just off the top of my head that we can improve on is obviously we turn it over too much, and then our steal level is low. But, as far as field-goal percentages and defensive field-goal percentages, those are all excellent. We can certainly keep improving, but I think in conference play we're committing over 16 turnovers per game, and we should be committing around that 12-13 range. And that might not seem like a big deal, but three extra possessions in a game, if you score three points on it, that's the difference in losing a lot of close games."
There's much to analyze from the statement above, but we'll save some of that for another blog.
I also asked him if he was pleasantly surprised with his team's rebounding this year. Here was his answer:
"That's a good stat, too. You look at our field-goal percentages, our field-goal defensive percentages and you look at rebound margin. I would have never have thought any of those areas would be as good as they'd be right now. I'm not ecstatic, but I'm pretty pleased. I can't believe we're leading the league in rebounding by a fairly substantial margin. I just never would have thought that would happen going into the season. It's a pretty good stat."
Coming into the season, Self was worried about his team's rebounding situation.
Most of his concerns were at the small-forward position, as he had to replace Brandon Rush, who was third on the team last year with a 5.1 rebound-per-game average.
Before we get to some stats, I want you just to think about this for yourself.
Last year's team had NBA-drafted big men Darnell Jackson, Darrell Arthur, Sasha Kaun along with Rush and also Cole Aldrich.
This year's team has Aldrich, Marcus Morris, Markieff Morris and, well, Brady Morningstar as its fourth-best rebounder.
So my question to you is, how many rebounds per game more did last year's team have than this year's team? Quite a few, right?
Try .1 rebound per game. The 2007-08 Jayhawks averaged 38.7 rebounds per game.
This year's Jayhawks are averaging 38.6 rebounds per game.
Shocking, huh? I was surprised, too.
Just for fun, here are KU's rebounds per game over the last four seasons. In parentheses is the rebounding margin.
2008-09 38.6 (+7.2)
2007-08 38.7 (+7.9)
2006-07 39.7 (+6.7)
2005-06 39.5 (+5.4)
The Jayhawks, in case you were wondering, are 12th nationally in rebounding margin and have an even better rebounding margin in conference play. The Jayhawks are +8.4 rebounds per game in 11 league contests. Oklahoma is a distant second with a +5.1 rebounding margin.
I know many teams in the Big 12, like today's opponent Nebraska, are undersized. That could contribute to KU's high rebounding numbers.
Regardless, I think it's time to give some credit where credit is due.
For one, Cole Aldrich has been phenomenal on the glass. He's averaging 10.7 rebounds per game, and no one at KU has averaged 10-plus rebounds a game since Wayne Simien in 2004-05 (11.0 rebounds per game).
Or think about it this way: Last year, Jackson (the team leader in rebounds per game) and Kaun combined for 10.6 rebounds per game. Aldrich is pulling down 10.7 per contest.
He's literally doing the work of two big men.
And for all the criticism they've taken offensively, the Morris twins have been consistent rebounders.
Marcus Morris is averaging 5.1 rebounds per game while averaging 18.5 minutes. Markieff Morris has grabbed 4.3 rebounds per game in 15.4 minutes.
Rebounds should be a major factor today. Nebraska, the shortest team in Division I, is last in the Big 12 in rebounding margin (-6.0).
The Jayhawks might struggle turning the ball over today against the Cornhuskers, but that should be less of a factor if the Jayhawks can dominate the glass like they should.
Copyright 2018 The Lawrence Journal-World. All rights reserved. This material may not be published, broadcast, rewritten or redistributed. We strive to uphold our values for every story published.