Photo Gallery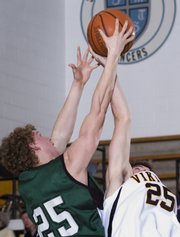 Free State boys vs. Shawnee Mission West
Overland Park — If there are indeed varying degrees of disappointment during a 17-game losing streak, Friday night's not-quite performance must rank somewhere near the toughest to swallow for this Free State High boys basketball team.
No, Free State never led in its 54-50 road loss against Shawnee Mission West: The Firebirds allowed 63 percent shooting in the first half to fall behind by double digits early. But perhaps more telling about this 1-17 team, it also refused to fold, full-court-pressing like maniacs in the final minutes of the contest, desperately trying for — and ultimately getting — one shot at tying the game.
"I can't imagine there's a team in the state of Kansas with a record similar to ours that would have battled back as much as they did in the fourth quarter," Free State coach Chuck Law said. "We seem to play really, really well when the chips are down."
Law used three-man hockey shifts throughout the last quarter, subbing Nick Hassig, Michael Swank and Douglas Compton in for offense. During deadball situations, Alec Heline, Aundre Allen and Connor Monarez checked in for defensive purposes. And slowly, Law's strategy started working. Compton buried a three. Hassig nailed a jumper. Forward Chase Hoag picked up a steal at halfcourt and a layup. Guard Jake Miller notched a three-pointer. Meanwhile, SM West (7-10, 4-6 in Sunflower League) was busy squandering a 10-point lead by missing 10 of its 23 free-throw attempts.
Suddenly, Hassig had the ball with 11 seconds left and his team down by three. Law drew up a play with Swank setting an on-ball screen for Hassig at the top of the key, a play designed to produce three options — Hassig could pull the trigger, he could find Compton setting up in the corner or Swank fading out for three.
"I kind of had in my mind that I was going to take the shot, and I should have given it up," Hassig said. "But that's how it went."
Hassig double-pumped a guarded three off Swank's pick that rattled off the rim with four seconds left, preserving the Vikings' victory and only adding to the Firebirds' misery.
Law couldn't find fault with Hassig's decision.
"Nick is our best three-point shooter," Law said. "It was a guarded three, a tough shot. Darn near went in anyway."
When it didn't fall, the losing streak — which will span 75 days before the Firebirds' next contest — continued.
"We knew we didn't have anything to lose, really," Miller said. "Obviously, 1-16, 1-17 now. If we play like that the entire game, we wouldn't get a deficit like that. The guys never quit, no matter how far down we've been. We always seem to get close."
Sophomore Eric Watson was partly responsible for bringing Free State back to life following the team's sluggish first half. He turned into a one-man wrecking crew offensively in the third quarter. With the Firebirds trailing, 30-18, Watson scored 11 points over a span of 2:04 to trim the deficit to 36-29.
"He was unbelievable in the second half," Law said. "Chase Hoag was our guy flying around and doing all those things in the first half, and I thought Eric dominated the game in the second half. We need him to do that from the word go."
Watson scored 15 for the Firebirds, and Miller added 13.
Free State travels next to Olathe Northwest on Tuesday.
Copyright 2018 The Lawrence Journal-World. All rights reserved. This material may not be published, broadcast, rewritten or redistributed. We strive to uphold our values for every story published.