Audio Clips
2009 KU-ISU Feb. 18
-->
Photo Gallery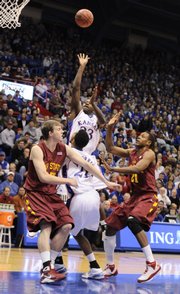 KU vs. ISU
KU scoring
Aldrich 22 (9-for-12 shooting, 11 rebounds), Collins 22 (six assists, no turnovers), Marcus Morris 8, Morningstar 6, Markieff Morris 4, Taylor 3, Reed 3, Little 2, Appleton 2.
KU was 28-for-56 from the floor (50 percent), 8-for-18 from three (44.4 percent) and 8-for-8 from the free-throw line (100 percent).
ISU was 18-for-56 from the floor (32.1 percent), 10-for-26 from three (38.5 percent) and 9-for-14 from the free-throw line (64.3 percent).
KU out-rebounded ISU, 39-29. KU had 18 turnovers to ISU's 15.
FINAL: KU defeats ISU, 72-55
Vanderbeken airballs a three, and KU breaks the press easily once again. Collins hits a three at the end of the shot clock, and Self pumps his fist in satisfaction.
That shot should seal this one.
Just for fun, Collins hits a stepback three with 31.7 seconds left. Both coaches clear their benches after that. Tyrone Appleton gets a layup in garbage time.
KU comes away with a 17-point victory.
KU 64/ISU 53 — 2:01 left in game
Vanderbeken hits his fifth three (his high for the season was three in a game), giving him a season-high 15 points. Collins responds with a deep three of his own.
KU breaks the press, but doesn't attack the rim. Morningstar is whistled for a charge, and on the other end, Petersen drains a rhythm three. KU's lead is down to nine.
After a timeout, KU attacks better offensively, and Aldrich lays one in off a bounce pass from Collins.
KU 59/ISU 47 — 3:59 left in game
The video department put together a "Phantom of the Phog" clip during the timeout, playing some haunting music before showing Aldrich in his mask on the video board. A replay of Aldrich's dunk followed, and the fans seemed to like the added touch.
ISU won't go away. Brackins and Vanderbeken hit threes, and Brackins gets two more off an offensive rebound. That's an 8-2 run, and the lead is back down to nine.
Marcus Morris hits two big free throws, but Aldrich is called for a delayed foul on Brackins. Self smacks the side of the video sign next to him with the back of his fist in frustration.
Aldrich answers again, putting in a guarded 18-foot jumper. He's up to 20 points and 11 rebounds on 8-for-11 shooting.
KU 51/ISU 38 — 7:43 left in game
After picking up a steal, Aldrich ignites the crowd, throwing down a one-handed, tomahawk slam in the lane.
With the crowd rocking, KU gets the benefit of a bad call, as Justin Hamilton is called for an over-the-back on Collins when there wasn't much contact at all.
Aldrich puts in an 18-footer, then on the next possession, Collins gives him a sick, no-look feed inside. Aldrich is fouled, but if he would have dunked it, we might have had a new high for volume level this year at the Fieldhouse.
Aldrich hits both free throws, and he has eight straight points for KU.
KU isn't making many shots, but the Jayhawks are running at their tempo right now. The Cyclones seem a bit sped up.
KU 45/ISU 38 — 11:28 left in game
Collins goes under the basket for a reverse lay-in, but ISU has an answer. Petersen hits a three, and Brackins rattles in a two. The lead is down to 43-38, and Self uses another timeout.
KU has scored 13 points in the last 12 minutes.
After the stoppage, the Jayhawks immediately go back inside to Aldrich, who gets a two to roll in.
Aldrich is guarding Brackins now. Self isn't messing around with that defensive assignment any more.
KU 41/ISU 31 — 15:52 left in game
KU responds well after the timeout. Following a Brackins free throw, Tyrel Reed (who else?) stops the run with a clutch three. After an ISU turnover, Collins splits two defenders on a drive before getting a finger-roll to crawl in. This game is still closer than it feels like it should be.
KU 36/ISU 30 — 18:07 left in game
It's a battle of tempos right now. The Jayhawks want to run, run, run, while ISU coach Greg McDermott, with palms up, urges his team to slow down.
Vanderbeken hits a three, and Brackins puts in a short jumper over Taylor. Timeout KU, as it's a 5-0 run for ISU to start the half.
KU scoring
Collins 9, Aldrich 8, Marcus Morris 6, Morningstar 6, Taylor 3, Markieff Morris 2, Mario Little 2.
KU was 14-for-30 from the floor (46.7 percent), 4-for-11 from three (36.4 percent) and 4-for-4 from the free-throw line (100 percent).
ISU was 8-for-28 from the floor (28.6 percent), 4-for-12 from three (33.3 percent) and 5-for-8 from the free-throw line (62.5 percent).
KU out-rebounded ISU, 25-13. KU has 10 turnovers to ISU's six.
Brackins has nine points on 3-for-10 shooting.
Halftime thoughts
• Better defense by the Jayhawks against Brackins. He looks frustrated and uncomfortable with the double-team KU is throwing at him.
• Another good half from Marcus Morris. He looks to be more confident after the KSU game. He has six points, three rebounds, a steal and two turnovers in 13 minutes.
•Again, way too many turnovers for KU. ISU forces just 11.0 turnovers per game, and KU has 10. The Jayhawks need to make better (and safer) decisions with the ball.
•In four minutes, Mario Little has six rebounds. Just think how many he could have if he played 15 or 16 minutes.
KU 36/ISU 25 — Halftime
ISU cuts the lead before the half. Diante Garrett gets a jumper to go down. Brackins has a shot in the lane roll in. Bryan Petersen and Vanderbeken follow with threes, and ISU has an 8-0 run.
Collins answers with a jumper around a screen, and just before the break, Aldrich puts in a two off an offensive rebound. The Jayhawks have to be leading the nation in made shots right before the first-half buzzer.
KU 30/ISU 13 — 3:54 left in 1st half
Long two by Marcus Morris. A few inches back, and he would have had a three.
Though KU has played well, it still has eight turnovers. That's too many against ISU, which averages just four steals per game. Most of the errors have been unforced.
KU 26/ISU 13 — 7:18 left in 1st half
Morningstar continues to shadow ISU's Lucca Staiger around the court. Staiger is 0-for-2 from three after a 1-for-7 shooting effort in the teams' first matchup.
With Brackins on the bench, ISU goes on a mini run. Sean Haluska and Jamie Vanderbeken hit back-to-back threes. Until that point, Brackins had all the Cyclones' points.
KU 19/ISU 7 — 10:42 left in 1st half
After three straight KU turnovers, Collins confidently pulls up for a 14-footer and swishes it.
Is it just me, or are the Cyclones hitting back rim with every shot? As I type this, the Cyclones are 1-for-11 from the floor (9.1 percent).
Brackins gets fouled on his way up for a three. That's already five free throws for him. The Jayhawks can't seem to keep him off the free-throw line.
The "Ain't No Seats" guys are back, and they've gotten pretty creative on free throws. Using a turned-on-its-side "E", the guys have spelled out "MISS" in their white block letters on every ISU free throw. So far, the Cyclones (or Brackins, whichever you prefer) are 3-for-5 from the line.
Mario Little can't get a shot to go down, but he's hustling all over the place. His 0-for-4 start should knock down his 62-percent field-goal percentage a bit, though.
KU 14/ISU 2 — 15:31 left in 1st half
Good ball movement early by the Jayhawks. Cole Aldrich misses a short look inside, but on the next possession, a post touch by Marcus Morris nets a wide-open three for Brady Morningstar.
Great sight for KU, as Tyshawn Taylor doesn't hesitate in shooting up a three from the corner that swishes through. It looked like he had lost some confidence in his outside shot in the last few games. He didn't even attempt a three against Missouri or Kansas State.
Sherron Collins gets a steal, then lays it in with the left hand on the other end. Timeout ISU, as KU has started the game on an 8-0 run.
Brackins shoots a guarded 16-footer in. He's already 1-for-1 on tough shots tonight.
Marcus Morris has made some great interior passes already. One of them gets Aldrich a dunk opportunity, and he's fouled on his way to the rim.
Steal by Marcus Morris out top. He takes it to the other end for an easy lay-in.
7:04 p.m.
No surprise here, as Marcus Morris gets the starting nod.
The place has filled in nicely and we're ready for tip.
6:58 p.m
Random stat while listening to a new song from KU's band, 25 or 6 to 4 (which is one of my all-time favorite pep band songs).
Craig Brackins had 21 free-throw attempts in his first game this season against KU. He has just 42 combined free-throw attempts in his nine other Big 12 games.
6:47 p.m.
Where are the students/GA folks?
It's only about 15 minutes before the game, and there are 10-15 empty rows in the northwest corner.
2002-03 Nick Collison vs. 2008-09 Cole Aldrich
Games: 38 / 25
Scoring: 18.5 ppg / 14.6 ppg
Field-goal percentage: 55.4 % / 61.0 %
Free-throw percentage: 63.5% / 79.0%
Rebounds per game:10.0 / 10.2
Assists per game: 2.2 /1.0
Turnovers per game: 2.4 / 1.5
Steals per game: 1.2/ 0.6
Minutes per game: 32.4 / 29.5
2002-03 Kirk Hinrich vs. 2008-09 Sherron Collins
Games: 38 / 25
Scoring: 17.3 ppg / 17.6 ppg
Field-goal percentage: 47.5 % / 42.2 %
Three-point percentage: 40.6 % / 36.4 %
Free-throw percentage: 70.4% / 82.1%
Rebounds per game: 3.8 /2.6
Assists per game: 3.4 / 5.0
Turnovers per game: 2.2 / 3.5
Steals per game: 1.8/ 1.1
Minutes per game: 33.5 / 34.6
2002-03 vs. 2008-09
Record: 30-8 (2005) / 20-5 (2008)
Scoring: 82.7 ppg / 77.5 ppg
Points allowed: 66.9/ 65.1
Field-goal percentage: 49.4 % / 48.4 %
Opposition FG percentage: 40.2 % / 38.3 %
Three-point percentage: 33.5 % / 38.0 %
Free-throw percentage: 65.6% / 73.0%
Rebounds per game:41.8 / 38.6
Assists per game: 17.2 / 16.4
Turnovers per game: 14.8 / 14.8
Blocks per game: 5.1/ 4.5
-->
6:24 p.m.
Here are a few surprises, to me, after comparing the two teams:
• Cole Aldrich's numbers match up better with Nick Collison's than I would have thought. Part of that, though, has to be attributed to Collison being relied upon more as a scorer. If you take more shots, obviously your field-goal percentage will most likely be lower. I'm still a bit surprised that, as of now, Aldrich has averaged more rebounds than Collison.
• I know he missed two big ones at Missouri, but Collins needs to be commended for his high free-throw percentage. I didn't remember that Hinrich's free-throw numbers were so low his senior year.
• Though we'd probably almost all agree that Collison and Hinrich were more valuable, keep in mind, we're comparing two fourth-year seniors to a sophomore and a junior.
•You can see the coaching philosophies when comparing the two squads' team stats. Roy Williams always preached transition offense and getting in more possessions, and that is reflected in the higher points-per-game stat. KU coach Bill Self, meanwhile, preaches defense, and that is evident by the lower defensive field-goal percentage numbers. Two different philosophies obviously have resulted in tons of success the last 20 years for KU basketball.
•It's also worth noting how well KU is shooting threes this season. Keep in mind that this year's team has a deeper three-point line than the 2002-03 team, and still the 08-09ers are much better from long range.
•The biggest difference, I would say, between the two teams comes after you get past the top two players. Keith Langford averaged 15.9 points per game. Wayne Simien (in the 16 games he was healthy) averaged 14.8 points per game. Though 2008-09 has more guys that can score, it doesn't have that go-to No. 3 guy like 2002-03 had in Langford.
I would say Mario Little is best suited for that role, but he hasn't been consistent with his scoring.
5:48 p.m.
Welcome back to the Newell Post Live, coming to you from Allen Fieldhouse where the No. 15 Kansas Jayhawks are getting set to take on the Iowa State Cyclones.
I saw on a message board the other day that the last time that KU started the season 20-5 was the 2002-03 campaign.
If you remember, that team had a pretty good run in the NCAA Tournament (see video at left), making it all the way to the national championship game.
When I started to think about the two teams, I could think of another big similarity: that team was led by a dominant guard (Kirk Hinrich) and dominant post player (Nick Collison).
This year's team also is led by a dominant guard (Sherron Collins) and dominant post player (Cole Aldrich).
So how does this year's 20-5 team stack up to the 2002-03 Kansas Jayhawks, who also started 20-5?
Let's take a look.
Statistics weren't available for the first 25 games of the 2002-03 season, so I decided to use the final season statistics (38 games) for our comparison.
On the left, I compared Hinrich to Collins and Collison to Aldrich. After that, I compared the two squads' team averages in their respective seasons.
I'll give some analysis on this comparison a little later in this blog.
Copyright 2018 The Lawrence Journal-World. All rights reserved. This material may not be published, broadcast, rewritten or redistributed. We strive to uphold our values for every story published.