On the street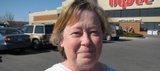 Yes, definitely. I want to know how many calories, how much fat, how much salt and what ingredients are in the product.
Take the Hy-Vee nutrition quiz
Which is the healthier option, a Fig Newton or an Oreo? Choose from the options in a quick nutrition quiz and see how various foods stack up.
It doesn't take a genius to figure out that a banana is more nutritious than a cookie.
But figuring out which cereal is more nutritious gets a little tougher. I am not talking about comparing Cocoa Puffs with Post Shredded Wheat — that's pretty obvious.
But what about a row of cereals that all claim they use whole grains and are a good source of fiber? Then, you need to grab the boxes and read the labels to compare things like carbohydrates, fat, protein, vitamins and sodium. Who has time to do that?
Nutrition at a glance
Not Dayna Hughes, of Lawrence, who has four children, ranging from 4 to 12 years old. During a recent grocery-shopping trip, she said she spends more time figuring out what's a good bargain. She just tries to use good judgment when it comes to nutrition.
Iowa-based Hy-Vee Inc. recently began rolling out new labels in its stores to help customers like Hughes decipher the nutritional value of food at a glance. The store's NuVal Nutritional Scoring System rates food on a scale of 1 to 100 with 100 being the most nutritious. Bananas earned a NuVal score of 91, while Nabisco Chips Ahoy Chewy Chocolate Chip Cookies earned a 2.
The scoring system was developed by a team of nutrition and medical experts from leading universities and health organizations in direct response to America's rapidly rising rates of obesity and diabetes.
According to the Kansas Health Institute, one out of five Kansas adults is obese and one in three overweight. Obesity contributes to a number of health problems, including diabetes and heart disease. If the current trend continues, by 2020 one out of four health care dollars will pay for obesity-related treatments.
"The company wanted to proactively help with wellness," said Laurel Eastling, health market manager at the Lawrence Hy-Vee store on West Sixth Street. "It gives people an easier way of telling nutritionally whether it's good for you or not without having to read the whole nutrition label."
The two Lawrence Hy-Vee stores began posting the NuVal labels about two weeks ago. The goal is to have every food item labeled by 2010.
Crunching data
The NuVal system considers more than 30 nutrients, including calcium, Omega-3 fatty acids, fiber and iron. It accounts for how these nutrients influence health and how they relate to the U.S. Department of Agriculture dietary guidelines and the Institute of Medicine Dietary Reference Intakes. The system also factors in items such as fats, sodium, sugar and cholesterol. It then spits out a number between 1 and 100, and it is posted on the food item in a little octagonal box.
So far, the Lawrence Hy-Vee stores have labeled about 3,000 items, including cereals, fruits, vegetables, crackers and juice.
Lawrence resident Sarah Campbell, a mother of two young children, didn't notice the NuVal labels until they were pointed out to her. She said they could prove to be a time-saver. She does consider nutrition content when buying food, but she said price is the most important factor.
A recent trip down the cereal aisle showed an example of how the NuVal labels could save time for someone considering nutritional content. There was a row of 16-ounce cereal boxes — each one had "Whole Grain Guaranteed" on the front and cost $3.99. One box was Fiber One and advertised that it had 14 grams of fiber. Another box was Basic 4 and its sales pitch was that it was "a low fat part of your Heart Healthy diet." So, which one is nutritionally better? Fiber One. It earned a 52 NuVal score, while the Basic 4 garnered a measly 23.
Eastling recommended that shoppers should aim to buy foods higher than a NuVal score of 30, but added that it's not a diet system. It should be used as an informational tool. She said people can still eat those Double Stuf Oreo cookies with an 8 rating, but hopefully, the labels will encourage shoppers to buy them in moderation or offset the not-so-nutritious stuff with something like apricots or broccoli — both earned a 100.
"I think it just says to you real loud and clear: This is probably not as healthy for you as you think," Eastling said.
Copyright 2018 The Lawrence Journal-World. All rights reserved. This material may not be published, broadcast, rewritten or redistributed. We strive to uphold our values for every story published.