Photo Gallery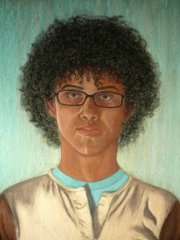 "Kansans ... As Talented As You Think"
Students from Lawrence high schools took six of the top eight spots in the "Kansans ... As Talented As You Think" contest organized by Native Sons and Daughters of Kansas. These are the winners and finalists from Lawrence.
Thumbnails · Gallery
Lawrence high school students dominated competition in this year's "Kansans ... As Talented as you Think" art competition organized by the Native Sons and Daughters of Kansas.
Students from Lawrence took six of the eight first-place awards.
That includes Best of Show, which went to Jenny Aucott, a Free State High School senior. She won for self-portrait drawing.
Other first-place winners from Lawrence were Charika Billie, FSHS, painting; Austin Noll, FSHS, drawing; Becca Kellerman, Lawrence High School, black-and-white photography; Ally Koppes, LHS, pastel; and Hannah Lodwick, FSHS, digital imaging.
This year's contest, the fourth annual, drew 300 entries, twice as many as previous years.
Some of the entries will be included in a 2010 calendar published by Native Sons and Daughters.
Copyright 2016 The Lawrence Journal-World. All rights reserved. This material may not be published, broadcast, rewritten or redistributed. We strive to uphold our values for every story published.