Photo Gallery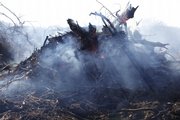 Clearing trees
Some Pleasant Grove area residents are tired of having smoke blown in their faces.
"It's really a health hazard and I have asthma," Marcia Price said.
The smoke is coming from trees and brush that have been cleared to make room for construction of the new U.S. Highway 59 south of Lawrence. Contractors are placing the debris in piles and burning it.
"This just really irritates me," said Catherine Wolf. "People do things like this and they think we just have to put up with it. Well, we don't have to put up with it."
Wolf had her own suggestion for getting rid of the debris.
"Why don't they take it to a public spot and burn it?" she asked.
Price said she is ready to complain to county commissioners.
The burning will continue for another month, said Kim Qualls, spokeswoman for the Kansas Department of Transportation, which oversees the highway project. The nearest homes are at least a half-mile away, she said.
Green wood, shrubs or "trash trees" are what are being burned, Qualls said.
"They are not burning all the trees," she said. "People are coming in and chopping up the wood they can use for firewood and hauling it away."
Anyone wanting firewood has to sign a form and then chop the wood, Qualls said. A small fee might be charged, she said.
"They're burning during the daytime hours. We're going to try smaller piles, but it is still green wood and it will smoke more than dry wood," Qualls said.
The proper permits and paperwork have been filed to allow the burning, she said.
"We can't control the wind direction and the weather," Qualls said. "We're doing what we can."
Copyright 2018 The Lawrence Journal-World. All rights reserved. This material may not be published, broadcast, rewritten or redistributed. We strive to uphold our values for every story published.