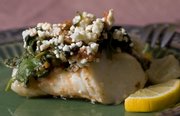 Nutritional Info
Nutritional info
Baked Cod on a Bed of Salsa and Spinach:
• 215 calories
• 74 calories from fat
• 8 grams fat (3 grams saturated; 0 gram trans fats)
• 60 milligrams cholesterol
• 13 grams carbohydrate
• 22 grams protein
• 3 grams fiber
• 633 milligrams sodium
Fish can be one of the healthiest foods. That is, until you dunk it in the deep fryer or saute it in butter.
As taste goes, those are fine options. But if it's a healthy meal you're after, better is to bake, broil or grill. These cooking methods also lend themselves to easy ways of upping the flavor to keep things from getting dull.
• Spice mixes and herb blends are easy, inexpensive and can be rubbed on all sides of fish fillets, and on the inside and outside of whole fish.
• Marinades are another good way to enhance fish, but they should be used with care. Acidic marinades, such citrus- or vinegar-based, can easily ruin the delicate texture of some fish. Limit the soak to about 15 to 30 minutes.
• Less acidic marinades, such as a blend of extra-virgin olive oil, pureed garlic and fresh herbs, can go up to 8 hours.
• Another technique for jazzing up fish is to layer it with other intensely flavored ingredients before baking.
Cod baked on a bed of salsa and spinach illustrates this idea. The jarred salsa brings zesty flavor and added moisture to the fish, while golden-brown crumbles of feta cheese add complementary saltiness.
The nice thing about using prepared salsa is that allows you to effortlessly add tomatoes, onions, chilies and spices. It also gives you the flexibility to adjust the flavors and heat level to suit your tastes.
To complete this meal, which would make a fine meat-free option during Lent, serve the baked fish and greens along with the flavorful juices over a mound of steaming brown rice.
Baked cod on a bed of salsa and spinach
1 tablespoon extra-virgin olive oil
2 cloves garlic, minced
10-ounce bag baby spinach, rinsed
1 cup tomato salsa, drained (use a mesh strainer)
1 pound cod fillets, (haddock or other firm white fish could be substituted), cut into 4 portions
Ground black pepper, to taste
1/2 cup crumbled feta cheese
Directions: Heat the oven to 450 degrees. Coat an 8-inch square or other small glass baking dish with cooking spray.
In a large skillet over medium-low, heat the oil. Add the garlic and stir until it begins to color, about 1 minute. Add the spinach, a handful at a time, and cook until it is all wilted. Stir in the salsa, then remove from the heat.
Arrange half the spinach mixture in a layer over the bottom of the prepared baking dish. Arrange the fish in a single layer over it. Season with pepper. Spread the remaining greens mixture over the fish, then sprinkle with feta cheese.
Bake for 20 minutes, or until the fish is opaque at the center. Serve with some of the pan juices over each portion. Serves 4.
Copyright 2018 The Lawrence Journal-World. All rights reserved. This material may not be published, broadcast, rewritten or redistributed. We strive to uphold our values for every story published.