On the street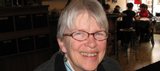 Bill Clinton because of his intellect.
Lawrence city offices and some other services will be closed Monday in observance of Presidents Day.
Federal offices and Douglas County District Court offices also will be closed. Douglas County administrative offices will be open.
City offices in McLouth and Eudora will be closed, as will county offices in Franklin and Jefferson counties.
City offices in Ottawa, Baldwin City and Oskaloosa will be open.
In Lawrence, the holiday will not disrupt residential sanitation routes next week. Commercial routes will run as scheduled Monday.
Lawrence Transit System buses will operate regular routes. Parking will be free in downtown Lawrence.
To report a water or sewer emergency during a weekend or holiday, call 843-2685.
The Community Building, East Lawrence Recreation Center and Holcom Park Recreation Center will be open from 8 a.m. to 9 p.m. South Park Recreation Center will be closed with the exception of scheduled classes.
Eagle Bend Golf Course is accepting tee times, weather permitting.
The Carl Knox Natatorium at Lawrence High School will be open from 6:15 p.m. to 8:30 p.m., and the Indoor Aquatic Center will be open beginning at 5:15 a.m.
All aquatic, special populations, recreation classes and adult sports leagues will run as scheduled.
Prairie Park Nature Center is closed every Monday.
The Lawrence Public Library will be open.
There will be no mail delivery Monday. UPS and FedEx deliveries will be made.
All Douglas County Senior Services facilities and services will operate as usual. Lawrence Meals on Wheels will also deliver.
The business office of the Journal-World will be open regular hours.
USA Today will be published.
Copyright 2018 The Lawrence Journal-World. All rights reserved. This material may not be published, broadcast, rewritten or redistributed. We strive to uphold our values for every story published.