Photo Gallery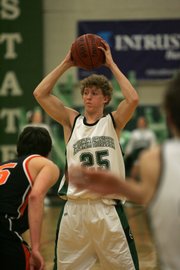 Free State boys vs. Shawnee Mission Northwest
Before Shawnee Mission Northwest, one of the state's best boys high school basketball teams, scored a point, Free State's Alec Heline had hit an elbow jumper, and teammate Nick Hassig had drained a baseline jumper.
Could it be that Free State, which entered Tuesday night with a 13-game losing streak, was about to play Buster Douglas while the Cougars played Mike Tyson? Might Free State's sparsely populated gymnasium be packed for the second half after word spread through town via text message that the Firebirds could recall Jimmy Chitwood's Hoosiers for a night?
In a word, no.
SM Northwest scored the next 12 points in the blink of an eye and rode super-hot second-half shooting to a 60-38 victory.
Free State's losing streak grew to 14 games, but this night was more about how impressive the victors were than about any losing streak.
Shawnee Mission Northwest (13-2) couldn't miss in the second half, when senior guard Rayan Arel made all four of his three-point shots en route to a game-high 16 points.
"They've got great pieces," Free State coach Chuck Law said of the Cougars, coached by Ben Meseke. "They can really shoot it, they've got good big guys, and they are exceedingly well coached. They're a serious threat to cut down the nets."
All of which explains why Law was so proud of the way his team hung in there in the first half. Senior Chase Hoag, who contributed five points and a strong defensive effort, stepped into a passing lane for a steal and took it to the hoop, scoring a bucket just before the halftime buzzer to bring the Firebirds (1-14) within 25-17 at the half.
Hassig, a 5-foot-11 junior, led the Firebirds with 11 points. Improving 6-foot-5 junior Michael Swank, who spent much of his time on the block drawing fouls, nailed a three from the right corner in a fourth quarter in which he scored six of his eight points. Douglas Compton and Jake Miller each also hit a three-point shot on a night the Firebirds hit six long-distance shots.
"In transition, their speed and athleticism exploited us, and they got some easy baskets," Law said. "Other than that, I thought we competed really well."
Copyright 2018 The Lawrence Journal-World. All rights reserved. This material may not be published, broadcast, rewritten or redistributed. We strive to uphold our values for every story published.