Photo Gallery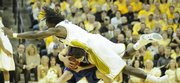 KU vs. Missouri
Audio Clips
2009 KU-MU Feb. 10
Columbia, Mo. — He spoke softly, but DeMarre Carroll delivered a big message when asked if Missouri had taken back the Border War in basketball.
"Yeah," he said barely over a whisper with a big smile, "I would say that."
With Monday's 62-60 victory at Mizzou Arena, the Tigers snapped a five-game losing streak against the Jayhawks.
Trailing 30-16 at halftime, MU coach Mike Anderson delivered a unique message to his players at the break.
"Coach just looked at us, and he kind of laughed like, 'Y'all are at home. Calm down. We know y'all have the jitters in you. Calm down,'" Carroll said. "Everybody looked at each other and started laughing. We just hopped up and said, 'Let's go out and get it.'"
The Tigers responded by playing better in the second half.
MU shot 46.7 percent in the second 20 minutes and also made 17 of 23 free throws.
In the first half, the Tigers shot 24.1 percent and were just 1-for-4 from the line.
"There's bad news, then there's good news," Anderson said, recalling his halftime speech. "I got the bad news out, then the good news is, 'Hey, fellas, we get to play in the second half. I think the first five minutes are going to tell me what you guys are made of.'"
MU still trailed, 58-51, with 3:49 left before going on its final run.
The Tigers scored 11 of the game's final 13 points, which included Zaire Taylor's game-winner with 1.3 seconds left.
"We like to say in practice the last 10 minutes of the game is our game with our depth and everything like that we like to use to our advantage," MU guard J.T. Tiller said. "When we see them bleeding, we like to put our foot on their neck. At the 10-minute mark, that's our motivation. We say it's our time."
Added Anderson: "Fatigue was a big factor in this game. You're not going to see Sherron Collins go to the free-throw line and miss two free throws. I guess we can attribute that to our fans, too."
The Tigers also credited the victory to improved second-half defense.
KU shot 50 percent in the second half but turned the ball over 15 times. In addition, Tiller held Collins to nine points on 4-for-13 shooting.
"Second half, you could see J.T. was like a Tasmanian Devil," Anderson said. "He was everywhere. He was touching balls, he was diving on the floor, he got a big jump ball down the stretch. But that's what he does. He just does things to help you win."
Collins contributed three assists with six turnovers.
Tyshawn Taylor was the only KU player in double figures with 11. Cole Aldrich had just eight points on 3-for-8 shooting.
"Not many teams are going to say that, 'Hey, we held Aldrich and Sherron Collins to under single digits,'" Anderson said.
MU (21-4, 8-2 Big 12) won the game despite shooting a season-low field-goal percentage (35.6 percent) and three-point percentage (14.3 percent).
It was the Tigers' 16th straight victory in front of their home fans.
"We've got to give them a reason to come, and when they come, we've got to give them a reason to stay," Anderson said. "I don't think they went home disappointed tonight."
Copyright 2018 The Lawrence Journal-World. All rights reserved. This material may not be published, broadcast, rewritten or redistributed. We strive to uphold our values for every story published.