Audio Clips
2009 KU-MU Feb. 10
-->
Photo Gallery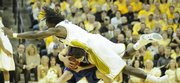 KU vs. Missouri
-->
-->
Final: MU defeats KU, 62-60
It turns out to be an unlikely hero for MU. On the last possession, Zaire Taylor gets a step inside the three-point line before shooting. His shot bounces hard off the rim and high in the air before falling in.
With 1.4 seconds left, Morningstar launches a full-court pass to Aldrich. The big man turns around and gets up a shot with some contact, but it's well off with no whistle. MU hangs on for the win, and soon after, the students rush the floor.
MU 60/KU 60 — 23.5 seconds left in game
Right when KU needs him, Little steps up. He calmly swishes a 16-footer from the side, tying the game at 60. MU calls timeout, and barring a turnover, will have the last shot in regulation.
MU 60/KU 58 — 49.7 seconds left in game
The Tigers respond with yet another run. Lyons ties the game at 58 with two free throws after Collins uncharacteristically misses two at the line.
After a missed shot by Collins, J.T. Tiller hits a shot from 14 feet to give MU its first lead since the first half.
KU 56/MU 51 — 3:49 left in game
Seven straight points for MU, capped by a three from Carroll that bounced up, out, then back in again.
KU is up to 23 turnovers. The Jayhawks can't afford any more giveaways if they hope to hold on.
Aldrich gets called for a clear-out after grabbing a rebound, and Self is livid. Three coaches hold him back. A bad call for sure, with a nice flop by a Tiger to seal the deal.
Reed gets a pair of free throws to push KU's lead back to five.
Another turnover for KU. That makes 25. How many more can the Jayhawks withstand?
KU 54/MU 43 — 7:57 left in game
Turnovers are killing KU. The Jayhawks have turned it over on three of their last four possessions. Meanwhile, MU has found its offense, and six straight points from Lyons followed by two free throws by Zaire Taylor cuts KU's lead to three at 46-43.
Who else but Tyshawn Taylor steps up when the Jayhawks need him most. He gets a tough floater to go in, and in transition, he scoops up his own miss before getting a two and foul.
After an Aldich block, Releford drives down the middle of the MU defense for a two and foul, and KU has responded to MU's run with an 8-0 spurt of its own. The Jayhawks are seeing some great poise and maturity from young players in the last few minutes.
KU 46/MU 35 — 11:41 left in game
MU cuts it to 12, but Little takes a few dribbles into the lane and nails a tough 14-foot turn-around. Carroll makes a jumper, but Little gets fouled on his way to the rim, making one of two free throws. More and more, Little is looking like the No. 3 scorer that KU needs.
Taylor gets a steal, then banks one in on the other end. Self has shown a lot of patience with him tonight.
Taylor jumps in the air with no plan in mind. He lands with the basketball. Turnover No. 6. Self squishes his temples together.
KU really needs to be careful with fouls. The Jayhawks already have nine personals this half, and with MU struggling to score, the free-throw line is an easy way to get points. Double-bonus the rest of the way for MU (Did you expect anything less on the road?).
KU 39/MU 27 — 15:50 left in game
Marcus Morris gets fouls two, three and four in a matter of 38 seconds, as he's whistled for two fouls then picks up a technical after bumping into an official. I don't have a good angle, but from here, the contact didn't look intentional.
MU's fans start to get into it, but Collins and Aldrich calm the storm for KU. Collins throws a pass inside to Aldrich, who puts in a layup for two, and on the next possession Collins drives all the way to the basket for a spinner off the glass.
Another turnover by Taylor, who charges in. With as well as Reed has been playing, I'm not sure why Taylor even started the half.
Lyons and Carroll get jumpers to go down, and the crowd's back in it. KU's defense hasn't been as sharp here in the second half.
After a timeout, Morningstar gets all the way to the basket before putting in an athletic scoop shot. Collins follows with a free throw and 18-footer, and KU has weathered another potential MU run.
KU scoring
Reed 6, Taylor 4, Aldrich 4, Little 4, Collins 4, Releford 4, Marcus Morris 2, Markieff Morris 2.
KU was 12-for-33 from the floor (36.4 percent), 2-for-12 from three (16.7 percent) and 4-for-4 from the free-throw line (100 percent).
MU was 7-for-29 from the floor (24.1 percent) 1-for-10 from three (10 percent) and 1-for-4 from the free-throw line (25 percent).
KU out-rebounded MU, 30-15. KU had 12 turnovers to MU's 10.
Halftime thoughts
• What a great half defensively for KU. Nothing for MU came easily. The Tigers also were only 1-for-10 from three, which shows you how well Reed and Morningstar are fighting through screens to get to shooters.
• If you would have told me that KU would make just 2 of 12 threes in the first half, I would have guessed the Jayhawks would have been down by at least eight.
• Mike Anderson has that look in his eye like he did four years ago against Kansas when he was coaching UAB. Remember the double-technical and ejection? Anderson's already thrown his coat, so he's walking a thin line.
• MU fans seem dejected at the moment. It really came through when Tiller's first free throw spun around and out. The collective groan from the crowd summed up the fans' emotions pretty well. The Tigers just can't seem to get a shot to go down.
KU 30/MU 16 — Halftime
The Jayhawks are getting a ton of extra-chance opportunities, but they can't seem to get the easy ones to go down.
Morningstar is locked up on MU's Matt Lawrence, and Lawrence can't get free for any threes. So far, the Tigers' best three-point shooter is 0-for-2.
Collins decides to not hold the ball out for the last shot, but KU doesn't get hurt by it. Though Marcus Morris misses a shot inside, MU's J.T. Tiller clanks a pair of free throws after getting fouled.
Right before the buzzer, Taylor gets a scoop shot to go off the glass and in, and KU goes to the break nearly doubling MU's point total.
KU 26/MU 15 — 3:22 left in 1st half
Turnover No. 4 by Taylor, who simply dribbles it out of bounds. He's a liability out there right now. Travis Releford quickly checks in.
KU has done a great job so far of breaking the press. The Jayhawks look composed and haven't been forced into bad decisions.
Releford gets hammered while going to the basket, and he makes both free throws (He was a 40-percent free-throw shooter coming in). Releford takes it to the basket on the next possession, finishing with a layup. He's given KU another threat with his cuts and drives to the basket.
KU's defense has been great so far. MU is 7-for-22 (31.8 percent) from the floor with 10 turnovers. The Tigers only average 12.6 turnovers per game.
KU 22/MU 13 — 7:39 left in 1st half
Tyrel Reed drains an open three to give KU a 15-11 lead.
Taylor tries a fancy, between-the-legs dribble in traffic, and MU snatches it away. That's three turnovers for him in less than 10 minutes.
Quick move by Collins, who swerves around Carroll before floating in a two. Reed follows with a deep three after a pair of offensive rebounds, and the Jayhawks have a 12-2 run.
MU 11/KU 10 — 11:44 left in 1st half
A couple of tough calls go against KU (as often happens on the road). Marcus Morris is called for a questionable charge, and Brady Morningstar is called for cheap foul when an MU player falls down on a fast break.
Collins comes back with two smart decisions in transition, though, throwing a nice lob to Aldrich for a slam before turning down a three for a pass inside to Mario Little for a layup.
Markieff Morris forces a turnover with a trap, then gets a tip-in on the other end. He's been a spark for KU in his first minutes tonight.
Six turnovers for KU. The Jayhawks are on pace for roughly 30 turnovers. They won't be able to keep that up if they hope to have any chance.
KU 2/MU 2 — 15:47 left in 1st half
Is the ball slippery? Both teams are having problems holding onto it (along with their footing) in the earlygoing.
Both teams look nervous and hesitiant. KU already is struggling with turnover woes, as the Jayhawks have given it away three times.
The first points come 3:22 in, as a Marcus Morris steal leads to a Tyshawn Taylor dunk.
8:08 p.m.
It doesn't look like there's an empty seat in here. Students are lining the aisles, as there aren't enough seats for all of them.
They're ready for this one.
7:51 p.m.
It's good to know that the "M-I-Z-F-K-U" chant is alive and well.
The MU students have poured in for this one. There are so many students here that many are getting sent to overflow sections of the arena. A few are standing on rails at the top of the student section. I've also noticed a wide variety of anti-KU shirts, such as "Flip the Bird" and "M-I-Z Beat KU," along with too many men from the Antlers wearing dresses that are too small for them.
7:37 p.m.
Looking at the statistics, here are three scary numbers for KU fans:
19.2 The number of turnovers Missouri forces per game, which is No. 1 in the Big 12. KU, meanwhile, has turned it over 14.2 times per game, which is second worst in the conference.
30.9 The percentage of three-pointers that MU's opponents have made this season, which also is best in the Big 12. KU, meanwhile, has made 41.9 percent of its threes in Big 12 play. The Jayhawks only have had one game where they haven't shot better than 37 percent from three-point range, and that was an ugly 66-61 home victory over Colorado.
0 The number of losses MU has at Mizzou Arena this year. The Tigers are 14-0 at home this season.
7:10 p.m.
It must be a big game by seeing some of the reporters floating around the media room.
I've seen Dennis Dodd from CBS Sportsline, Jason King of Yahoo! Sports and Joe Posnanski of the Kansas City Star. With MU's recent surge, it looks like a lot of the national media members are paying attention to the rivalry game this year.
Former KU football coach Don Fambrough preps the 2005 team for the Border War
For those who feel like you need to be pumped up a little more for this Border War matchup, click on the audio on the left (Warning: This clip contains some profanity).
7 p.m.
After going to a smaller gym last week at the Ferrell Center in Waco, Texas, walking into Mizzou Arena was a bit overwhelming today.
If the Ferrell Center is a chapel in size, then Mizzou Arena is a cathedral. The open-air gym has a high, high ceiling, so high in fact that I could barely read the names on the small, retired jersey banners hanging from the rafters.
Maybe it's just the constant reflection of the ribbon video boards, but the arena seems to have a gold glow to it as you look around, with the yellowish light making it feel a bit eerie almost. The arena, with a second level consisting almost entirely of luxury suites, reminds me a lot of the Sprint Center in Kansas City, Mo. It definitely feels like an NBA venue has been dropped in the middle of the MU campus.
6:30 p.m.
Welcome back to the Newell Post Live, coming to you from Mizzou Arena in Columbia, Mo., where No. 16 Kansas is getting set to take on No. 19 Missouri in the Border War.
An interesting topic came up in the office a couple days ago: Halfway through the season, who would be leading the Big 12 coach of the year vote?
As a refresher, here is how the conference teams were picked in the preseason poll:
1. Oklahoma (3)109
2. Texas (4)107
T3. Baylor (2)103
T3. Kansas (3)103
5. Texas A&M79;
6. Oklahoma State69
7. Missouri51
8. Kansas State50
9. Nebraska49
10. Texas Tech39
11. Iowa State20
12. Colorado13
And here's how the teams stand now:
1. Oklahoma9-0
2. Kansas8-0
3. Missouri7-2
T4. Kansas State5-4
T4. Nebraska5-4
6. Texas4-4
7. Oklahoma State3-5
T8. Texas A&M3-6;
T8. Baylor3-6
10. Texas Tech2-6
T11. Iowa State1-7
T11. Colorado1-7
Obviously a lot can change in the second half of the conference season, but here is my ranking for the Big 12 coaches so far:
1. Mike Anderson, Missouri. The Tigers, behind DeMarre Carroll and Leo Lyons, have exceeded all expectations. Anderson seems to finally have his system fully implemented at Missouri, and at 20-4, the Tigers are a near-lock for the tournament.
2. Bill Self, Kansas. Let the debate begin: Was Self's best coaching job last year or this year?
3. Jeff Capel, Oklahoma. Coaches of the league favorite rarely get the coach of the year honor, but if the Sooners go 16-0 in conference, Capel should make room on his mantle for the trophy.
4. Doc Sadler, Nebraska. Wins the award for getting the most out of the least amount of talent.
5. Frank Martin, Kansas State. The Wildcats' five-game win streak, which includes wins over Texas, Missouri and Texas A&M;, has been impressive. If the Wildcats can stay at the No. 4 spot in the Big 12, they will be dancing in March for the second straight year.
Quick trivia: Who won last year's Big 12 coach of the year? I'll give you the answer later.
Copyright 2018 The Lawrence Journal-World. All rights reserved. This material may not be published, broadcast, rewritten or redistributed. We strive to uphold our values for every story published.