Photo Gallery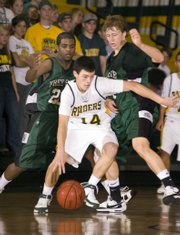 Free State boys vs. Shawnee Mission South
Overland Park — Free State's free fall has left the Firebirds at a loss for words.
"It's really frustrating to some so close," senior guard Connor Monarez said after Free State High's 13th straight basketball defeat on Friday night. "I can't explain how frustrating it is."
Shawnee Mission South withstood the Firebirds' furious late rally and salvaged a 40-37 victory in the Raiders' gym.
Perhaps the Firebirds would have stopped the bleeding if Jake Miller had been able to play, but the 6-foot-2 senior was diagnosed with a staph infection on the bottom of a foot and couldn't go, even though he suited and gave it a try during warmups.
"That's 13 points a game," Free State coach Chuck Law said, "and our only player averaging in double-figure scoring."
At the same time, however, SM South was without its top player. Will Spradling, a 6-2 junior guard who is averaging 23 points a game and has made an oral commitment to Kansas State, missed his third game in a row due to a calf injury.
After a desultory first half in which Free State managed a 12-10 lead — yes, 12-10 — the Raiders began to pull away early in the fourth quarter.
With about three minutes remaining, the Firebirds' situation appeared hopeless. Free State was down by nine points, and Nick Hassig had just fouled out.
"With Jake not playing, Nick is our leader," Monarez said, "but we kept our heads."
And they found the shooting touch they'd been missing all night.
Michael Swank drilled a three-pointer, then Alec Heline converted a turnover into a layup, and the Firebirds were down by four with 1:33 to go.
Moments later, SM South's Russell Cofer-Haas cashed a couple of charities to expand the lead to six, but Douglas Compton countered with a jumper at :56 cut the lead to four again.
Five seconds later, the Raiders' Christian Duke bricked a couple of charities, and Monarez responded with a three-pointer so, with 32 ticks to go, SM South's lead was a precarious 38-37.
And when the Firebirds forced still another turnover, Free State had the ball with a chance to take the lead.
But with 21 seconds showing, a marginal traveling call against Heline put the ball back in the Raiders' hands, and this time Duke converted two free throws for a 40-37 edge.
Nevertheless, Free State had the ball and a chance to tie, but R.J. Newton blocked Monarez's three-point attempt from the corner out of bounds at :11.3.
Free State still had the ball, though, and another chance to forge a deadlock, but Heline's deep shot bounced away at :05. Close, but again no cigar.
"We showed a little urgency late," Law said. "A sense of desperation kicked in. We didn't want to lose another game."
Instead, the Firebirds suffered that same old feeling of deflation. They haven't won since spilling Valley Center, 50-35, in the season opener.
Copyright 2018 The Lawrence Journal-World. All rights reserved. This material may not be published, broadcast, rewritten or redistributed. We strive to uphold our values for every story published.