Audio Clips
2009 KU-OSU Feb. 7
-->
-->
Photo Gallery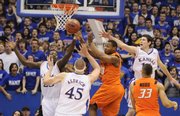 KU vs. OSU
-->
KU scoring
Little 13, Aldrich 12 (18 rebounds), Collins 12, Taylor 12, Morningstar 9, Marcus Morris 9, Reed 6, Releford 5.
KU was 28-for-61 from the floor (45.9 percent), 11-for-23 from three (47.8 percent) and 11-for-15 from the free-throw line (73.3 percent).
OSU was 23-for-65 from the floor (35.4 percent), 10-for-32 from three (31.3 percent) and 11-for-13 from the line (84.6 percent).
KU out-rebounded OSU, 46-33. The Jayhawks had 17 turnovers to the Cowboys' 13.
Final: KU defeats OSU, 78-67
KU has trouble with the press late, turning it over twice more, but OSU can't get is own shots to go.
Collins hits a three with 5.5 seconds left, before Anderson crushes all those people who bet on KU -11.5 with a three from the corner at the buzzer.
The Jayhawks win by 11.
KU 75/OSU 62 — 2:28 left in game
KU has an inbounds pass stolen, and Terrel Harris follows with a three from the corner. KU can't afford too many more of those.
KU 73/OSU 57 — 2:56 left in game
Collins misses the front end of a one-and-one. His new streak didn't last long. Fortunately, it looks like this miss won't hurt the Jayhawks.
Eaton shoots his first free throw with 5:09 left. The Jayhawks have done a great job of avoiding fouls on him.
Aldrich gets a whistle for swiping at Eaton on a drive, and he's as upset as I've seen him all year, yanking at his face mask while swinging around in frustration.
Eaton hits the free throws, and OSU forces a turnover on the inbounds play. Page hits his first three of the game, and you can see how the Cowboys have been able to make a comeback quickly on so many opponents.
Little gets a much-needed basket for KU inside, scooping up a Collins miss and laying it in.
That could be the dagger from Taylor, who hit an off-balanced three with one second left on the shot clock. KU's lead goes back up to a comfortable 16.
KU 64/OSU 47 — 6:44 left in game
James Anderson misses a three. He's 2-for-11 from the floor and 1-for-7 from three-point range with five points. He's the Cowboys' leading scorer this season, averaging 16.8 points per game.
KU 64/OSU 47 — 7:24 left in game
Taylor throws a nice pass inside to Aldrich, who puts in a short turn-around.
Eaton seems to be passing up a lot of shots inside. He has seven assists but just four shot attempts (1-for-4).
Nice lob from Collins to Releford for a dunk. We haven't seen that play as much this year as we did last year.
KU 56/OSU 39 — 11:43 left in game
Two straight baskets for Little, including an up-and-under move in the lane. He's now 5-for-5 from the floor.
Collins drains a three, and the crowd erupts after Tyrel Reed pokes the ball away then puts in a layup with a foul on the other end. After the free throw, KU has increased its lead to 54-35.
Little scrambles to pick up a loose ball, then on his back finds Aldrich for a jam. KU has showed its scrappiness in the last few minutes.
Little finally misses a shot, leaving a 12-footer short.
KU 44/OSU 31 — 15:54 left in game
Two good possessions for Morningstar. He hits a three from the corner, then on the next possession, he zips a pass into Marcus Morris for an easy two.
OSU keeps hanging around but can't make an outside shot when it needs it. Realistically, the Cowboys are only a couple shots away from making this a game.
KU scoring
Mario Little 7, Sherron Collins 6, Cole Aldrich 6 (with 10 rebounds), Brady Morningstar 6, Tyshawn Taylor 5, Marcus Morris 5, Travis Releford 2.
KU was 13-for-30 from the floor (43.3 percent), 6-for-12 from three (50 percent) and 5-for-6 from the free-throw line (83.3 percent).
OSU was 9-for-34 from the floor (26.5 percent), 4-for-16 from three (25 percent) and 2-for-2 from the free-throw line (100 percent).
KU out-rebounded OSU, 24-18. The Jayhawks had nine turnovers to Cowboys' eight.
Halftime thoughts
• Great balanced scoring by KU. The Jayhawks have to be encouraged having six players with at least five points.
• Wasn't that a quiet 10 rebounds for Aldrich?
• It might sound strange with 37 points, but KU needs to perform better offensively in the second half. The Jayhawks had too many turnovers (forced and unforced) and didn't take advantage of their size inside as much as they could have.
• The Cowboys missed a lot of open shots from the outside. Don't expect them to shoot so poorly from three-point range in the second half.
• With so few field goals by OSU, the Jayhawks were able to mostly avoid the Cowboys' full-court press. Expect OSU to be frantic with the pressure in the second half.
KU 37/OSU 24 — Halftime
KU needs to do a better job of recognizing the hot hand, as an open Muonelo hits his fourth three. He's 4-for-7 from deep, while his teammates are 0-for-8.
Morningstar hits a three from the corner over Page. That's an interesting matchup, as I mentioned in my pre-game blog.
OSU coach Travis Ford yells, "Lob, lob, lob" but still KU is able to throw one over the top to Marcus Morris, who is hacked by Anderson. Marcus makes one of two. I don't remember his last missed free throw before that, as he's done a nice job of improving that part of his game.
KU gets possession on a jump ball with just .8 of a second left, and coach Bill Self stands on the baseline with Collins, pointing and telling him where to throw it. Don't know if you could see it on TV, but it was a pretty funny sight.
The Jayhawks take a 13-point lead into the break.
KU 33/OSU 19 — 3:04 left in 1st half
Marshall Moses, who had 18 points and eight rebounds in his last game against Tech, is playing with confidence. He uses a quick move to get around Aldrich for a layup. He's up to six points and has been the Cowboys' only inside threat.
Taylor uses a nice move to get himself open, faking a pass on the perimeter before swishing a three from the top.
Little drains another shot in traffic off the glass.
OSU is shooting just 7-for-27 from the field (25.9 percent) and 3-for-12 from three (25 percent). KU has been a bit fortunate the Cowboys have missed open shots.
KU 24/OSU 14 — 7:55 left in 1st half
Tyrone Appleton into the game early for KU. He travels on his first possession. Could this be a sign that KU will try to wear the Cowboys down? OSU has the fourth-lowest percentage of bench minutes in the nation (18.4 percent), and KU has shown one possession of pressing early.
Some sloppy play for KU. The Jayhawks have turned it over on three of their last five possessions.
Eaton picks up his second foul challenging Taylor on a fast break. I don't think OSU can risk taking Eaton out at this point.
KU 22/OSU 12 — 11:51 left in 1st half
The Cowboys have started to heat up from the outside, as Obi Muonelo puts in a pair of threes.
This is the fastest-paced game KU's played in quite a while. The Jayhawks are playing at the Cowboys' tempo, but the Jayhawks have the deeper bench.
An NBA move on the perimeter by Mario Little. Much like Michael Jordan, he pivoted toward the basket, faking a drive twice to clear space before swishing a three. You can tell he's watched plenty of Jordan videos.
KU 12/OSU 4 — 15:24 left in 1st half
Cole Aldrich starts the KU scoring with a tough turn-around in traffic. For now, it looks like the Cowboys are content with single-teaming him inside.
Sherron Collins drains a guarded three, while OSU's James Anderson misses a wide-open attempt from beyond the arc. The Cowboys have started out cold from the outside, missing their first four treys.
Collins seems to be enjoying this up-and-down tempo. He's made two treys and has pushed the break at every opportunity.
Tyshawn Taylor gets his second foul on a charge. He goes to the bench and most likely will be there for a while.
2:29 p.m.
Four quick things to look for from OSU:
• Three-pointers. Just remember the number 40. OSU makes 40 percent of its threes (sixth in the nation), and 40.6 percent of the Cowboys' shots are from three-point range. That's usually a good combination for an underdog.
•Mizzou Lite. Much like MU, the Cowboys like to press off a made basket. Because of this, it will be important for KU to play good defense and not allow the initial made basket. The score/full-court press has allowed OSU to make quick runs.
•Never out of it. In four of the last five games, OSU has been down by 14 points and has come back to at least make it a two-point game. In the Cowboys' last game, they were down 16 and still came back to beat Texas Tech by one.
•Hands off Eaton. Byron Eaton has made 83.9 percent of his free-throw attempts in conference play, which included an 18-for-20 effort last game against Tech. Last year against KU, he went 16-for-18 from the line in a 26-point effort. KU will have to try to avoid fouling him on the drive.
2:16 p.m.
Player A: 9.8 points per game, 68-141 field goals (48.2 percent), 40-95 three-pointers (42.1 percent).
Player B: 7.3 points per game, 53-117 field goals (45.3 percent), 33-72 three-pointers (45.8 percent).
One of these players had the highest scoring average for his career in the last 20 years of high school basketball and has the highest three-point percentage in national high school history.
The other player is Brady Morningstar, a sophomore who by many wasn't expected to crack KU's lineup at any point in his career.
Coaches search far and wide to find shooters in today's world of college basketball. We all remember Jeff Boschee and his value at KU.
Keiton Page, at a very Jesse Newell-like 5-foot-10 and 168 pounds, is that kind of player for OSU.
He averaged 44.4 points per game in high school last year and ended his career with 49.9-percent accuracy from three-point range.
The reason I bring this up is just to show how much value KU is getting from an unexpected place in Morningstar.
He wasn't recruited to KU as a shooter. In fact, his main strength was supposed to be athleticism.
And in just three short years, he's made himself into a shooter that, in some areas, is better than arguably the best three-point high-school shooter of all time.
Have you made your guess yet?
Player A is OSU freshman Keiton Page. Player B is Morningstar. So (with fewer attempts) Morningstar is out-shooting him by more than three percent from three-point range.
That's a credit to Morningstar and his hard work on improving his shot.
1:30 p.m.
Welcome back to the Newell Post Live, coming to you from Allen Fieldhouse where the No. 24 Kansas Jayhawks are getting set to take on the Oklahoma State Cowboys.
I'm not afraid to admit it: OSU's Byron Eaton is my favorite non-KU player in the Big 12.
After watching him, I think you guys might like him too.
At October's Big 12 Media Days in Oklahoma City, I had the chance to do a one-on-one interview with the former McDonald's All-American.
I couldn't help but want to cheer for the guy afterwards.
He was friendly, humble and, most of all, open during his interviews. That's not always easy, especially on Media Days when it seems like players are shipped through never-ending interviews.
Here's the video from the time I spent with him. This clip is him talking about being the last team to beat KU during its national championship season and what that meant to him. Be sure to watch to the end, as he talks about watching last year's national championship game.
In the bottom clip, he talks about the sacrifices he made to lose weight over the summer. At the time of our interview, he was at 200 pounds. He played at around 240 earlier in his career.
I know Eaton won't be a popular guy in an hour, and he'll be even less popular if OSU pulls off a big upset.
But maybe you can find it in your heart to watch the video and like him for the next 50 minutes or so.
Copyright 2017 The Lawrence Journal-World. All rights reserved. This material may not be published, broadcast, rewritten or redistributed. We strive to uphold our values for every story published.