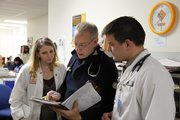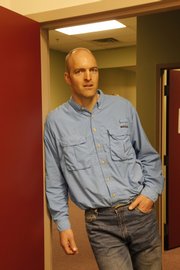 How to help
The Leo Center accepts cash and asset donations. The center can liquidate assets through the Servant Christian Community Fund in Kansas City. It also accepts donations of food and baby care items such as diapers and formula. The medical clinic is in need of health professionals who can donate services. If you would like to help, contact the Leo Center at 841-7297 or stop by its office at One Riverfront Plaza, Suite 100.
The following churches will be accepting food donations Feb. 15. They are: Lawrence Wesleyan Church, 9 a.m.-noon; Lawrence Heights Christian Church, 9 a.m.-1 and 4:30 p.m.-6:30 p.m.; Heartland Community Church, 9 a.m.-noon; Grace Evangelical Presbyterian Church, 7:30 a.m.-1 p.m.; Vintage Church, 5:30 p.m.-7 p.m.; Christ Community Church, 8:30 a.m.-1 p.m.; Community Bible Church, 8 a.m.-noon; Clinton Parkway Assembly of God, 8 a.m.-noon; First Church of the Nazarene, 9 a.m.-noon; Victory Bible Church, 9 a.m.-1 p.m.; and Mustard Seed Church, 9 a.m.-noon.
There's a little-known nonprofit organization in Lawrence that has a unique perspective on the economy.
It's called The Leo Center, and it's nestled inside the east end of the Riverfront Mall.
The faith-based center has a medical clinic, food pantry and a pregnancy care center. It also offers counseling services.
"We really want to address the whole person," said Jon Stewart, Leo Center CEO. "I think it is a powerful opportunity here to be addressing the emotional and spiritual existence alongside the physical existence."
It's in uncertain economic times like these that counseling services can prove most beneficial.
"That stress of losing one's job is significant, and when a person is under stress, the body is essentially imploding in a lot of ways," Stewart said.
Since opening in 2004, the center's mission has been to transform lives by providing hope to those in need, and now that need is growing.
Food pantry
"We have seen a noticeable increase of new visits to our food pantry," Stewart said.
In 2008, the center provided a week's worth of groceries for 926 households, representing 2,542 people. It was a 20 percent increase from 2007, when the center helped 774 households, representing 2,297 people.
In January, the center helped a monthly record of 97 households, representing 293 people. At that pace, the center is predicting another 25 percent increase for 2009.
"We have been fortunate," Stewart said of not running out of food. But, the center has come close.
There are no restrictions on who can receive food, but recipients are required to fill out a little paperwork. The center also monitors usage to prevent abuse.
Pregnancy clinic
Barbara Watkins, Pregnancy Care Center director, said there has been about a 10 percent increase in parents needing items such as diapers and formula during the past five months.
"I just think people are struggling financially," she said. "We serve a lot of single moms, and I think that every dime counts."
Besides providing material items, the center also offers free pregnancy testing, post-abortion counseling and adoption services.
"We have a lot of women that come and just want to visit and bounce stuff off of us," Watkins said. "They just want to talk to somebody that's not closely involved."
Although the pregnancy center has its own board of directors and budget, Watkins said its location inside the Leo Center is beneficial, being just down the hall from the medical clinic that has a sonogram machine and doctors.
Health care
The medical clinic offers primary care services at reduced costs based on income. It has a lab where doctors and nurses can do a certain amount of testing. Besides providing sonograms, they also can take X-rays and provide physical therapy.
The clinic also has a pharmaceutical assistance program and can provide drugs for free or at a reduced cost. Stewart estimated that the clinic provided $3 million in drugs last year.
The clinic served about 3,500 patients last year. So far, it hasn't seen an increase in patients, which has surprised Stewart and Dr. Dennis Sale, medical director.
"It's been an interesting phenomenon," Sale said. "We've seen a decrease recently with the economic times. We thought we would see more patients coming in. But, we also see that people don't have as much money to spend on health care."
He said if people need to make a choice between getting a test done or food, they are obviously going to pick food.
Carmela Huston, Lecompton, said she knows about such tough choices. Huston and her husband began using the Leo Center three years ago when they didn't have insurance. Now, they have insurance, but it requires a $5,000 deductible.
"We couldn't afford health care if it wasn't for this place," she said after taking a stress test.
Sale suggested she take the test after having some chest pains recently. Huston said she could afford to only do such a test at the Leo Center, where they charged her $63 for the test and $30 for an office visit. A stress test generally costs about $300 and an office visit $75.
Although Huston and her husband have jobs, they still struggle to pay bills. She said they recently fell behind on their mortgage payment and were in jeopardy of losing their home.
She held up both hands and moved them up and down, in a weighing motion. "Home or stress test?"
Huston said she would have put off the stress test if the Leo Center wasn't available.
The clinic is able to provide low-cost services through the donations of medical equipment and supplies. It also operates with health professionals who volunteer their time and Kansas University pre-medicine students. The clinic charges at least a minimal fee for a reason.
"Studies show that we tend to value that which we participate and acquire in," Stewart said. "Our fee is not intended to be a barrier for care. In fact, studies would suggest by charging some kind of fee, we are actually facilitating delivery of care."
For example, if someone pays for a lab test, they are more likely to follow up on the recommended treatment. If someone pays for medicine, they are more likely to take it.
History
The clinic hasn't always charged for its services. In fact, a lot has changed since Sale founded it 10 years ago.
The clinic — then called the Heartland Medical Clinic — opened in 1999 in the lobby and nursery of Heartland Community Church. Sale and a nurse volunteered to help five patients on opening day. They rolled around a table with equipment and supplies.
"That was the humble beginnings," Sale said. "It was very makeshift."
But, the need for services grew quickly. Within 18 months, the clinic was serving about 300 patients per month.
The Rev. Paul Gray, pastor at Heartland Community Church, said the clinic eventually needed to use all of the Sunday school rooms.
That's when he approached other churches.
"We prayed about it and worked together," Gray said.
Their prayers were answered, and they were able to move the clinic into its current location.
Gray also wanted to rename the clinic because it was adding services and being supported by more than just his church. He did some research on the late Leo Beuerman, a longtime Lawrence resident and subject of an Academy Award-nominated film who was deaf, nearly blind and unable to walk or speak clearly. Despite his illness, Leo always wanted to give. He wrote that his greatest desire was to make enough money to help those less fortunate than him, especially those who needed medical help.
"I think Leo really understood giving," Stewart said. "He really understood it and what a blessing it is."
In need
The Leo Center operates on about $450,000 per year. The funding comes from grants, about 20 Lawrence churches, individual supporters and patient fees.
"At a time when we are bracing for skyrocketing demand, the revenue stream is going the other direction. It's tightening up right now," Stewart said.
Gray, a member of the Leo Center's board of directors, said local, state and national foundations have taken a hit in the stock market.
The Leo Center has 11 paid employees, and about six of them work in the medical clinic.
"Believe me, it's a labor of love for the folks who work there," Gray said. "They have a heart for helping people."
Copyright 2018 The Lawrence Journal-World. All rights reserved. This material may not be published, broadcast, rewritten or redistributed. We strive to uphold our values for every story published.