On the street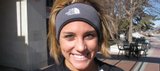 How many statues are on the KU campus?
Jack Connor admits he gets weird stares from his friends who see him encased in a small booth off Jayhawk Boulevard between Stauffer-Flint and Bailey halls.
The Overland Park senior works for KU Info and has been assigned to a new on-campus location twice a week since the question-and-answer service expanded its options this semester.
"I don't think most people realize it's here," he said.
But there it sits, a small blue "KU Info" sign resting in the lower-right corner of one of the windows being the only immediate way to recognize just what it is the person sitting inside is doing.
KU Info has been a fixture of the campus for years and is known for providing help to callers on a wide range of topics, from how to locate Burt Hall to how to register a car in Rhode Island.
The service has previously answered about 200 questions a day by phone, Facebook, e-mail and in person at a desk on the fourth floor of the Kansas Union, said Curtis Marsh, KU Info program director.
But, as far as he can tell, the Jayhawk Boulevard booth has sat vacant for decades.
So far, the reaction has been positive, once people figure out what exactly is going on inside the booth, Marsh said. "Basically the reaction has been something like, 'I've never seen a person in there before,'" Marsh said. "One person came up and asked, 'Are you guys some kind of art project?'"
Though the booth was once used for dispensing information, Marsh said this is the first time KU Info has used it since the service began in the early 1970s.
After talking with previous directors of KU Info, and researching old newspaper articles, the most recent mention he can find of someone using the booth is from 1974, when someone staffed the booth in the evenings to provide safety and information for people looking to call a taxi or waiting for the bus.
A recent renovation project added phone and Internet wiring to the booth, which also has heating and air-conditioning.
The more than $50,000 project was funded jointly by KU Info, the University Daily Kansan, Student Senate and the Provost's Office, Marsh said. He said he increased his staff from 12 to 20 to accommodate staffing the new location.
Now, the renovation is mostly complete, save for a flat-screen television that will be added in coming weeks on the west side of the booth to deliver additional information to students.
KU Info has also added a text messaging system this semester to increase the number of ways to contact the service.
"The goal is, for each student, to connect with them the way they communicate with each other," Marsh said.
Connor said the first person he helped in the new location was a blind man who seemed lost. Connor said he opened the glass window and asked whether he could help, and then provided directions to Stouffer Place Apartments.
"I think once it gets established and is more in people's minds," it will be used more often, Connor said. "It's just right in the middle of campus."
Copyright 2018 The Lawrence Journal-World. All rights reserved. This material may not be published, broadcast, rewritten or redistributed. We strive to uphold our values for every story published.