Photo Gallery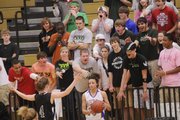 Free State girls vs. Hutchinson
The Free State High girls basketball team came oh-so-close to snapping its eight-year drought at the Firebird Winter Classic on Saturday.
But a 26-foot three-pointer from tournament MVP Sydney Ramsey with 32 seconds to play in the title game kept the Firebirds out of the winner's circle for the ninth straight season.
Behind 14 points and four three-pointers from Ramsey, Hutchinson High held off a furious second-half surge from the Firebirds to win, 36-34.
"We played an excellent second half," Free State coach Bryan Duncan said. "But the bottom line was we lost the game in the first half."
After exploding to halftime leads of 32-12 and 26-7 in the first two rounds, the Firebirds found themselves in a nine-point hole at halftime of Saturday's championship. It didn't last long. Free State scored on three straight possessions to open the second half, with junior center Ashli Hill (11 points, 8 rebounds, 4 blocks) assisting on two straight buckets and converting a third.
"We didn't panic, we just weren't playing our game in the first half," Hill said. "But we're a third-quarter team, and we came out and showed that."
The Firebirds outscored the Salthawks 8-3 in the third quarter. Junior Chantay Caron (16 points) then opened the fourth with a bucket to cut the lead to two. Hill added two free throws at the 5:51 mark to tie it.
But every time Hutch needed a big basket, someone knocked down a three-pointer. Hutch shot 8-for-17 (47 percent) from three-point land, more than making up for an overall shooting mark of just 33 percent.
After Hutch's Emile Blakesley sank a triple with 4:02 to play, the Firebirds ripped off a 5-0 run to gain the lead. Caron's lay-up with 37 seconds to play put Free State ahead, 34-33. It was the Firebirds' first lead since a 4-3 advantage in the first quarter.
Five seconds later, Ramsey buried the game-winner.
"We got exactly what we wanted on the other end," Duncan said. "A quick, 26-foot three-point shot. I don't care how good of a shooter a girl is, we'll take that. Unfortunately, this time, it went in."
In addition to finishing as the runner-up, Free State (7-6) landed three girls on the all-tournament team: Hill, Caron and senior Ashleigh Allam.
Copyright 2018 The Lawrence Journal-World. All rights reserved. This material may not be published, broadcast, rewritten or redistributed. We strive to uphold our values for every story published.