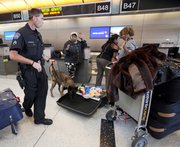 Washington — President Obama said Tuesday that a "mix of human and systemic failures" allowed a Nigerian student allegedly carrying a explosive to board an airplane on Christmas Day, and he vowed to quickly fix flaws that could have doomed a flight carrying nearly 300 passengers and crew members.
The president and his top advisers now believe there is "some linkage" with al-Qaida, and the administration is "increasingly confident" that the terrorist group worked with suspect Umar Farouk Abdulmutallab to secure the deadly chemical mixture that he took aboard Northwest Airlines Flight 253, a senior administration official said Tuesday.
The government also had intelligence suggesting a possible attack on the United States by al-Qaida around Christmastime, White House officials said.
Obama's stark remarks came two days after Obama's homeland security secretary, Janet Napolitano, said that information provided by the suspect's father before the failed bombing plot was so vague that it did not merit further investigation. Napolitano also said that "the system worked" in this incident, drawing a political outcry from GOP lawmakers and national security experts.
As the Obama administration reviewed the government's actions Tuesday, investigators in Yemen visited an Arabic language institute attended by Abdulmutallab and asked about his ties to a mosque in the capital's historic section.
In the United States, FBI agents conducted fresh interviews of each passenger on the Detroit-bound flight and focused their attention on Abdulmutallab's past six months, a time when investigators suspect that the Nigerian student grew increasingly radicalized, according to two federal officials who spoke on condition of anonymity so as not to interfere with the ongoing investigation.
Over the past year, Abdulmutallab intensified electronic communications with the extremist Yemeni-American cleric Anwar al-Aulaqi, the federal sources said. Aulaqi also corresponded with the Army major accused of responsibility for the Fort Hood massacre last month, officials have said.
From his vacation spot in Hawaii, the president blamed lapses in sharing information after Abdulmutallab's father alerted the U.S. embassy in Nigeria last month about his son, who had embraced radical views and cut off ties to the prosperous family. Government officials said they already have identified faulty systems and failures to follow procedure, and Obama has demanded preliminary results of a review by Thursday.
"It now appears that, weeks ago, this information was passed to a component of our intelligence community but was not effectively distributed so as to get the suspect's name on a no-fly list," Obama said, adding, "Had this critical information been shared ... the suspect would have never been allowed to board that plane for America."
The president added later, "A systemic failure has occurred, and I consider that totally unacceptable."
Intelligence officials said they were eager to improve their system to close whatever gaps the Abdulmutallab case may have exposed. But several expressed puzzlement and some irritation over Obama's reference to "bits of information available within the intelligence community" that, if "pieced together," might have "triggered red flag" about the Nigerian.
"Abdulmutallab's father didn't say his son was a terrorist" when he visited the U.S. embassy in Nigeria, "let alone planning an attack. Not at all," one U.S. intelligence official said. "I'm not aware of some magic piece of intelligence that suddenly would have flagged this guy — whose name nobody even had until November — as a killer en route to America, let alone something that anybody withheld."
The "bits of information" apparently referred at least in part to Abdulmutallab's two previous visits to the United States — to the Washington area in the summer of 2004, and to Houston, for what officials said was a "religious conference" in August 2008. Although those travels, and Abdulmutallab's U.S. entry visas, were available on separate databases, they had not been given any terrorism significance and thus were not included in the terrorism database maintained by the National Counterterrorism Center. Under existing guidelines, NCTC officials would have had no reason to seek out non-terrorism information about him based on his father's concerns.
Officials said that their reviews in response to Obama's order will be twofold. Obama has said he wants by Thursday everything the U.S. government has found out about Abdulmutallab from its own data and from foreign governments since Christmas Day, as well as exactly what the suspect did during his previous visits to this country and elsewhere, including Yemen, and whom he associated with.
What is expected to be a longer review, led by John Brennan, the White House deputy national security adviser and counterterrorism chief, will look at whether changes are needed in the database and watch list systems that failed to flag Abdulmutallab as an imminent security risk and to place him on an airline watch list.
The seriousness of the lapse, and Obama's reference to both "human and systemic" failures, appear to have revived resentments within the intelligence community, particularly between the CIA and the Director of National Intelligence. The DNI, created as part of the post-9/11 intelligence reforms, usurped the CIA's position as the head of the intelligence community, while creation of the NCTC imposed a sometimes uncomfortable level of collaboration on the CIA and others.
"The United States government set up NCTC to connect the dots on terrorism," the intelligence official said. "If somebody thinks it could have been done better in this case, they know where to go for answers."
Abdulmutallab's father had spoken to the CIA in Nigeria in November, the agency said Tuesday, when he sought help in finding his son.
The CIA "did not have (Abdulmutallab's) name before then," spokesman Paul Gimigliano said.
"Also in November," Gimigliano said, "we worked with the embassy to ensure he was in the government's terrorist database — including mention of his possible extremist connections in Yemen" that were mentioned by his father.
"We also forwarded key biographical information about him to the National Counterterrorism Center. This agency, like others in our government, is reviewing all data to which it had access — not just what we ourselves may have collected — to determine if more could have been done to stop Abdulmutallab," Gimigliano said.
Frances Fragos Townsend, assistant to President George W. Bush for homeland security, said, "Undoubtedly we're going to find there was additional information in the system that no one understood until after the event. Clearly people needed to be more aggressive ... to ask additional questions."
Former Homeland Security Secretary Michael Chertoff said the federal government needed to develop "a continuous process of re-vetting people who have been cleared once but over time become dangerous."
Obama's advisers insisted he was not reacting to criticism about his earlier silence. But the president left no doubt that he is working throughout his vacation in Hawaii as Republicans continued to attack his 1/2ndash 3/4 and his homeland security director's — handling of the matter. Obama referred to Napolitano by name in his remarks, signaling that her job is safe despite calls for her resignation.
Until last week, the administration had boasted about its anti-terrorism efforts, especially its arrest earlier this year of a young Afghan in Colorado who had visited an al-Qaida training camp. But officials expressed frustration about the way the Detroit incident unfolded politically, and redoubled their efforts to show that the administration is seizing control of the problems and their solution.
"Everybody recognizes that when a person gets on a plane with explosives, that was a failure," senior presidential adviser David Axelrod said.
An al-Qaida affiliate that operates in Saudi Arabia and Yemen took responsibility for the airline attack in a statement this week that U.S. intelligence officials deem credible. The Obama administration agreed Tuesday with that assessment, with a senior administration official telling reporters on the condition of anonymity that the government had received new information Monday night "that spoke to both where the suspect had been, what some of his thinking and plans were (and) what some of the plans of al-Qaida were."
Abdulmutallab remains in a Detroit-area prison and, after initial debriefings by the FBI, has restricted his cooperation since securing a defense attorney, according to federal officials. Authorities are holding out hope that he will change his mind and cooperate with the probe, the officials said.
Among the areas of ongoing interest for investigators are Abdulmutallab's alleged contacts with clerics in Yemen, including his visits to a popular radical web site operated by Aulaqi. Aulaqi once preached at a large Northern Virginia mosque attended by three of the Sept. 11, 2001, hijackers and has exhorted his followers in recent years to engage in jihad.
The British government has stepped back from initial statements that it had passed along its concerns after Abdulmutallab was denied a visa in May. The denial, sources said, was based on immigration, rather than terrorism, concerns and was not transmitted to any other intelligence service outside of Britain.
A Yemeni official said his government had no indication from foreign intelligence operatives that Abdulmutallab had engaged in suspicious behavior.
Copyright 2018 The Lawrence Journal-World. All rights reserved. This material may not be published, broadcast, rewritten or redistributed. We strive to uphold our values for every story published.