Photo Gallery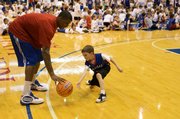 KU basketball holiday clinic
Chicago is not Marcus Morris' kind of town.
"Mark my words. I will never do that again in the wintertime — go to Chicago. That's the worst thing for anybody to do, to go to Chicago in the wintertime. That's my advice: Never go to Chicago in the wintertime because you might not make it out," Morris said excitedly Sunday afternoon in Allen Fieldhouse.
The Kansas University sophomore basketball forward and brother Markieff were scheduled to return to Lawrence on Saturday afternoon following a three-day Christmas vacation to Philadelphia. But they didn't make it back until Sunday morning.
They had an unexpectedly long stay in the Windy City, where they were supposed to merely change planes at 11 a.m. Saturday at O'Hare International Airport.
"Stuck in Chicago for a day," Marcus said, explaining travel problems on a snowy Saturday — woes that forced the twins to miss Saturday night's practice and the first hour of Sunday morning's workout.
"Every flight I was on kept getting delayed or canceled, so I was on a list. I was probably, like, the 58th person or something like that. Every time the list came up, I wouldn't get picked, and the last flight went out. My brother was the next to get on the plane, but there were no more seats, so we were stuck there for the night."
The twins initially planned to sleep in the airport in advance of a 5 a.m. flight Sunday.
"They had little cots that me and 'Kieff couldn't fit on, so we actually put our money together and got a hotel," Marcus Morris said of the airport Hilton. "It was expensive, but it was nice."
The twins met several KU basketball fans during their 10 hours or so in O'Hare.
"We had to sign autographs, take pictures," Marcus said. "I was kind of upset because the seats were uncomfortable, and I'd been there all day. I just wanted to get back. For one time, I wanted to practice. For a change, I wanted to be at practice. Normally I don't," he joked.
Sophomore guard Tyshawn Taylor also missed Saturday's practice. He had a flight from Newark, N.J., to Chicago diverted to Dallas. He missed a possible connection and didn't arrive in Lawrence until late Saturday night.
Everybody was back on campus in time for Sunday's holiday clinic for 400 or so youths, which ran from 1 to 3:30 p.m. The Jayhawks held their second practice of the day at the conclusion of the clinic.
Junior Cole Aldrich did not have any travel delays returning from snowy Bloomington, Minn.
"Surprisingly I didn't, which was nice," Aldrich said. "We got about a foot of snow over two days."
On his short trip home, Aldrich was able to visit his grandmother, Ann, who is battling cancer.
"I wasn't sure I was going to be able to see her because we got so much snow, and the roads were bad. She's not doing very well, but she is hanging in there," Aldrich said.
Aldrich, who has been battling bronchitis for several weeks, said he's feeling rejuvenated.
"We've been on campus since August. It's nice to see some familiar faces, just sleep in your own bed," Aldrich said.
He was happy to see all his teammates Sunday, especially the twins.
"I can't imagine," Aldrich said of visualizing the twins killing so much time Saturday at the airport. "All their little electronics probably died, and they were probably just sitting there talking to themselves. Fortunately, they were able to be safe. That's the main thing, just to be safe and get back here in one piece."
The Jayhawks served as camp counselors for two hours at the clinic, then signed autographs and posed for pictures for a half hour.
"It was great. I love playing with the kids. I know how much they look forward to these type of things," freshman power forward Thomas Robinson said.
The best thing one of the campers said to him?
"That I was their favorite player."
Up next
The Jayhawks (11-0) will meet Belmont University (7-4) of the Atlantic Sun Conference at 8 p.m. Tuesday in Allen Fieldhouse.
Belmont, which has qualified for the NCAA Tournament three of the past four years, has lost to Washington, Wright State, Saint Louis and Eastern Illinois and beaten Portland State, Alabama State, Eastern Illinois, Tennessee State, Kennesaw State, Mercer and Middle Tennessee State.
A victory would run KU's homecourt win streak to 50 games. If KU wins out at home, the Jayhawks would enter the 2010-11 season with a 59-game streak. The school record is 62 games (Feb. 26, 1993 to Dec. 8, 1998).
"The goal every year regardless of where you coach is to go undefeated at home," KU coach Bill Self said. "We need to keep winning. Of course, we've got some tough games coming up and obviously through the league. Fifty would be nice. Certainly I'd like to run the table for the year and put us in position where maybe we can break a school record."
This, that
Self on Sunday celebrated his 47th birthday. ... Self said freshman center Jeff Withey could make his season debut Tuesday. "I think he could make a debut and still not be ready, depending on game situations and circumstances. You take anybody out of activity for seven weeks (stress fracture), you are not ready to play in a game, although by that I mean four to five minutes at a time," Self said. "Hopefully over Christmas break he can get to where he's confident enough because talent-wise he can definitely help us going into league."
Copyright 2018 The Lawrence Journal-World. All rights reserved. This material may not be published, broadcast, rewritten or redistributed. We strive to uphold our values for every story published.