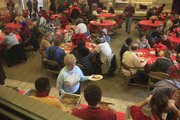 More than six inches of snow from Thursday night's winter storm couldn't keep the holiday spirit from coming out Friday.
Volunteers bustled about First United Methodist Church, 946 Vt., helping to prepare, dish and deliver Christmas Day meals to those in need. Dedicated committee members running the free meal program had a little extra stress to deal with this time around.
"It's been an irregular day," said Brower Burchill, who's been helping with the program for 16 years. "Normally it runs slick as a whip."
Burchill said because of poor driving conditions, food deliveries to the church had been running behind schedule, which in turn had thrown the rest of the day's activities a little off.
Phyllis Hubbard, another committee member, sat with Burchill at one of the church's many festively decorated tables to grab a bite to eat in between fulfilling duties. Hubbard, who has also worked the Christmas Day dinner for the past 16 years, said she couldn't believe the weather.
"We've never had a winter like this," Hubbard said.
The inclement weather didn't just delay the food. Volunteers and dinner guests were also in short supply. The dining room inside the church had more empty seats than usual and the 30 to 40 volunteers were kept busy. Burchill said the Christmas dinner typically served about 900 people, but the snow had changed the day's dynamic somewhat.
"I think we have a few more out in the community and a few less here in the church," Burchill said. "It's just been difficult for people to get here."
Volunteer delivery drivers shouldered much of the holiday load, attempting to transport more than 600 boxed meals. The undertaking was proving to be a daunting task, but volunteers were determined. Deb Engstrom, another longtime committee member, shuffled through stacks of orders and addresses, matching similar locations for more efficient delivery runs.
"We're short a lot of drivers, but we're chipping away at it," Engstrom said.
Back in the dining room, Eric Fabert sat at a table alone, finishing his food and sipping his drink. Fabert, who has spent time off and on in Lawrence after attending high school in the Shawnee Mission district, said he had been attending the dinner for four years after falling on hard times.
"The food is good," Fabert said. "(Lawrence) is pretty much the only place where you can still find a breakfast, lunch and dinner."
The volunteer crews worked with smiles on their faces, collecting dirty plates and even offering second helpings to hungry guests.
"Our motivation is the people," Hubbard said. "It's making people feel good."
Burchill smiled and nodded, "I'd say that's a very good answer."
Copyright 2018 The Lawrence Journal-World. All rights reserved. This material may not be published, broadcast, rewritten or redistributed. We strive to uphold our values for every story published.