-->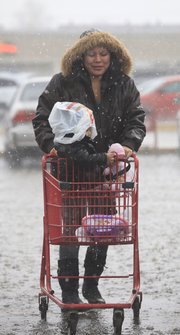 Kansas weather updates, via Twitter
Winter Weather
Winter weather information
11:35 p.m.
About 2,000 of the Westar customers without power have had it restored. That still leaves about 2,600 without power as crews continue to work to resolve the problem.
10:54 p.m.
A Westar Energy representative said crews are currently working to figure out what's going on with the power. The representative said there was no time estimate yet for when power would be restored. Residents in the area are reporting hearing a loud boom around the time of the outage.
10:35 p.m.
There are now more than 4,700 Wester Energy customers in Douglas County reporting power outages. Outages have been reported north of 6th Street and in the nearby neighborhoods. Information about the cause of the outages is not yet available.
10:23 p.m.
Westar Energy is currently reporting more than 1,300 Douglas County customers are without power. The majority of the outages are north of 6th Street.
5:54 p.m.
The power outages in Lawrence have been reduced to 298 customers, according to Westar Energy's Web site. The outage mainly affects customers north of Sixth Street and east of Lawrence Avenue.
Westar spokeswoman Erin La Row said crews were working to restore power to remaining customers. The company has not yet identified a cause for the outages, she said before 6 p.m.
5:15 p.m.
More than 1,300 Douglas County Westar Energy customers are currently without power, according to the utility's Web site.
The outage is concentrated north of Sixth Street and east of Lawrence Avenue.
There was no word immediately available on when power would be restored.
3:56 p.m.
Highway patrol troopers said the roads in parts of western Kansas are already treacherous and people in Northeast Kansas should think ahead as the weather moves this way.
"It's kind of hard to stay on the roads. You've got to go slow," said Jason Juhan, a clerk at the Love's truck stop in Goodland. "People are just trying to get through and get to where they need to as fast as they can."
Still, he saw an upside to the weather: "It's been a few years since we've actually had a white Christmas out this way."
Trooper are encouraging people not to be on the roads during the winter storm, unless they absolutely have to.
"Law enforcement will be out encouraging the public to drive safely, to slow down, to increase their following distance," said Trooper Edna Buttler, highway patrol spokeswoman. "Everyone needs to take their time and slow down and be patient and be prepared."
Emergency managers said weather was blamed for a Tuesday night accident in Thomas County that killed a couple from Fort Smith, Ark.
As more accidents pop up, Buttler encouraged drivers to move out of the way of emergency workers.
She also encouraged people to carry blankets, window washer fluid and an ice scraper in their cars, for safety.
— Jesse Fray
3:03 p.m.
The National Weather Service has issued a Winter Storm Warning for Douglas County and surrounding areas from noon Thursday until 6 p.m. Friday.
The National Weather Service predicts 6 to 8 inches of snow accumulation across the region as well as strong, blowing winds. Any travel is strongly discouraged while the winter storm warning is in effect.
2:55 p.m.
The latest predictions from the National Weather Service are in and as of 2:30, snowfall accumulation is predicted to be about 6 inches in Douglas County by the time the storm moves out Friday afternoon.
6News Meteorologist Greg Postel said he expected the majority of the snow to arrive between about 4 p.m. Thursday and 6 a.m. Friday, Christmas morning. Some models, he said, are predicting more snow, others slightly less.
He said one of the biggest concerns would be wind gusts of up to 40 mph on Friday, which could lead to blizzard-like condition on Christmas Day.
11:48 a.m.
Lawrence city street crews are preparing to clear Lawrence streets when the snow arrives.
Street crews in Lawrence will go into snow mode at 7:30 a.m. Thursday and then work 12 hour shifts from there on until the snow is out of the area.
— Mark Fagan
11:15 a.m.
A fairly strong line of storms moved through Lawrence about 11 a.m. Wednesday.
Pea-sized hail and heavy rain was reported in downtown. Lawrence Douglas County Fire and Medical was investigating two reports of lightning strikes near houses, including one in Baldwin City and one in Lawrence north of the Hallmark plant.
By 11:20, most of the strongest storms had moved out of Douglas County.
10:15 a.m.
The National Weather Service issued a severe thunderstorm warning for Anderson County earlier this morning. The storm was tracking north-northeast toward Douglas County.
About 10:15, the warning was allowed to expire but the storm has been producing non-severe level hail for much of the morning.
8:17 a.m.
The Kansas Highway Patrol reported numerous crashes in the western part of the state, including a double fatality collision in Thomas County near Colby. The patrol said an eastbound car on icy Interstate 70 spun out of control Tuesday night, crossed the median and was struck by a westbound tractor-trailer, killing both people in the car.
The storm that's currently dumping rain on Lawrence was expected to dump more than a foot of snow on parts of Colorado and southern Utah by midday Wednesday, and blow east into the Plains states through Christmas Day. Blizzard warnings were likely on Christmas Eve in Kansas.
As of Wednesday morning, the National Weather Service was projecting 6+ inches of snow across Northeast Kansas from Topeka, east.
— The Associated Press contributed to this update.
5:05 a.m.
Rain continues to fall as the area has recorded about two-tenths of an inch of precipitation so far this morning. Driving conditions will be less favorable with the wet conditions.
3:40 a.m.
The National Weather Service has announced a winter storm watch is in effect for Douglas County, including the city of Lawrence.
The watch is in effect from this evening until Friday afternoon. Light freezing rain is expected to fall Wednesday across the area, turning to rain around midday today. The rain is then expected to change to snow Wednesday night, with moderate to heavy snowfall possible through Friday morning.
Traveling during this time could be dangerous, as snowfall totals for the storm are estimated to be around six inches and above with winds gusting as high as 45 miles per hour.
Check back to LJWorld.com for weather updates.
Copyright 2018 The Lawrence Journal-World. All rights reserved. This material may not be published, broadcast, rewritten or redistributed. We strive to uphold our values for every story published.