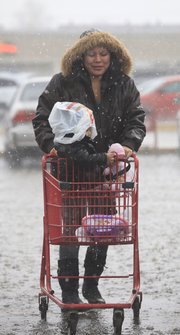 -->
Photo Gallery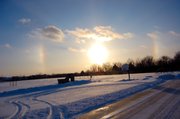 Winter Weather 2009-10
The city's street crews aren't worried about clearing a path for Donner, Blitzen and a bearded, jolly ol' guy in a bright red suit.
"He's coming by air," said Dave Kraus, field supervisor. "We can't do anything for that."
Instead, the 40 employees of the city of Lawrence's street division are keeping their attention on the ground — diesel engines plugged in, trucks loaded with sand and salt, and trusty Thermoses filled with hot coffee or perhaps comforting cocoa.
By 7:30 Thursday morning, they'll be embarking on 12-hour shifts to clear what would be the first falling snow to cover city streets on a Christmas Eve or Christmas in at least two decades.
And folks like Kraus wouldn't have it any other way.
"It'd be nice to stay home with the family, but this is what we all signed up for," said Kraus, who will earn eight hours of holiday pay for Christmas, plus overtime pay for any hours to be worked Friday. "It is what it is. We can't schedule the weather. We'll do whatever it takes to make everything passable in the city."
As rain fell Wednesday in Lawrence, forecasters were calling for the precipitation to turn solid — either ice or snow — sometime today and into Friday. Predictions ranged from a few to as many as 8 inches, with high winds expected to blow the snow into drifts and create the potential for treacherous driving conditions.
Tom Orzulak, who manages the street division, is readying his crews to clear every street, avenue and cul-de-sac in town — stretching for 313 miles in all, or enough to go from Lawrence to St. Louis and then some — so that residents and their visitors can gather safely for holiday cheer.
"These 85,000 bosses I have are pretty particular," he said.
Copyright 2018 The Lawrence Journal-World. All rights reserved. This material may not be published, broadcast, rewritten or redistributed. We strive to uphold our values for every story published.