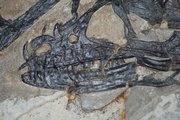 David Burnham may not know the strength of its bite, the potency of its venom or the precise duration of the combination's resulting debilitation, but the Kansas University paleontologist can pinpoint at least one inescapable scientific fact with absolute certainty.
Falling prey to a Sinornithosaurus wouldn't be a pleasant way to go.
"You're in the forest," says Burnham, part of a team that recently documented the beast's venomous abilities. "You can't really see what's behind you. … You may hear something in the leaves, but by the time you turn around it's too late.
"It jumps on your back, embeds its teeth in your tissues and within a minute you're into toxic shock, and just lay helpless as this thing devours you."
While the end result is quite lethal — "pretty nasty," Burnham says — the only shock-inducing effects these four-winged raptors can impart these days comes in the scientific world.
Thanks to a joint team of KU and Chinese researchers, the Sinornithosaurus — a feathered, turkey-sized dinosaur that hung around in trees and clamped onto birds some 128 million years ago — is documented as the earliest known bird-like creature to use such poison.
The findings are to be published this week in the journal Proceedings of the National Academy of Sciences.
Larry Martin, another team member who is a KU professor and curator of vertebrate paleontology at KU's Natural History Museum and Biodiversity Institute, described the findings as the most significant since his arrival on campus 40 years ago.
Copyright 2018 The Lawrence Journal-World. All rights reserved. This material may not be published, broadcast, rewritten or redistributed. We strive to uphold our values for every story published.