Photo Gallery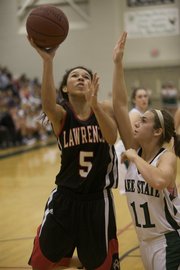 Lawrence High girls vs. Free State
Since it was a nail-biter, no one asked for their money back.
At the same time, however, no one suggested placing the game tape in a time capsule.
Rocks and bricks were as plentiful as fouls as Free State outlasted Lawrence, 37-34, in city girls high school basketball Saturday night in the Firebirds' gym.
"I'm not sure how to describe it," Free State coach Bryan Duncan said. "I'm just glad our kids stayed calm."
This one was deadlocked at 33 with :29 left after a basket by the Lions' Haley Parker. But the tie didn't last long.
Free State's Chantay Caron raced down the court for what appeared to be an easy layup. But Caron missed the gimme — one of many by both teams. Moments later, however, the 5-foot-11 senior horsed the ball back in.
"We celebrated a little bit too much and didn't get back on defense," the Lions' Jasmyn Turner said of Caron's go-ahead stick-back.
Still, Lawrence had plenty of time to tie. But when Parker's close-in shot went awry, Free State's Kylee Loneker rebounded and was fouled.
With :04.8 on the clock, Loneker, a 5-5 soph, nailed both charities to give the Firebirds an insurmountable 37-33 advantage.
Rachel Kelly hit a meaningless charity for the Lions with :00.5 showing to wrap up the scoring.
Free State won despite failing to record a field goal in either the first or third quarters. Lawrence couldn't take advantage, however.
"We had a chance in the third quarter to take control," Lions' coach Nick Wood said. "They scored just one point, but we had just three, and that wasn't enough."
Free State's only point in that third-quarter brick bath was a free throw by Caron.
Rachel Kelly accounted for the Lions' three points by hitting from beyond the arc. The Lions misfired on their other 13 shots during those stultifying eight minutes.
Can a basketball team win when it makes only eight field goals? Free State did because the Firebirds went to the line 32 times and made 20.
In fact, Free State scored three more points at the foul stripe than it did from the field.
"It's easy to score from the line," Lions' coach Wood said. "If the officials are calling it tight, we have to adjust."
Lawrence finished with two more field goals than Free State — including three more than the Firebirds from beyond the arc — but shot 14 fewer charities, making 10 of 18.
Caron led the Firebirds with 13 points, and 6-5 Ashli Hill wound up with nine before fouling out with three minutes left. Both drained seven free throws.
Parker and Jordyn Tolefree scored 10 points apiece for the Lions.
Free State has won four of its five December games, but hasn't been that impressive, at least not on offense.
"We're 4-1," Duncan said, "and we've got to get better."
Lawrence has won only once in six starts, mainly because of poor shooting. The Lions shot a frigid 21.7 percent (10 of 46) Saturday night.
"We've had trouble scoring all year," Wood said. "When we have open shots, we have to hit them."
Both teams now will break for the holidays. Free State will resume on Jan. 5 at Platte County, Mo. Lawrence's next game will be Jan. 8 at Olathe North.
Copyright 2018 The Lawrence Journal-World. All rights reserved. This material may not be published, broadcast, rewritten or redistributed. We strive to uphold our values for every story published.