Photo Gallery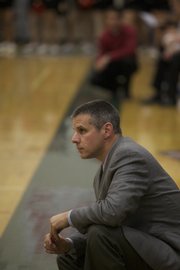 Lawrence High vs. Free State
Free State High's boys basketball team made no attempt to hide the focal point of Saturday's city showdown matchup with Lawrence High at the Firebirds' gymnasium.
"In the third and fourth quarter, when we broke the huddle, we said, 'Finish,'" Free State junior Evan Manning said. "That was our focus. We didn't want to hand the game to them on a silver platter like we did last year."
And so they didn't.
While poor free-throw shooting has cost the Firebirds in this series more times than they'd care to remember, Free State focused in at the charity line — finishing the game 17-of-28 — and played ferocious defense in the second half to come away with a hard-fought, 50-45 victory.
"Free throws were a big key," said junior Eric Watson, who led the Firebirds with 12 points on 5-of-9 shooting. "We work on those every day in practice, and we know that they're important in every game. People don't forget about those that we've missed in the past. So it was nice to come through tonight when it counted."
The Firebirds fell behind early in this one and appeared to be in for a long night. LHS turned an early lead into a 17-8 advantage at the end of the first quarter after an 8-0 run put the Firebirds on their heels. Anthony Buffalomeat (18 points, seven rebounds) and Logan Henrichs hit back-to-back three-pointers, and Marcus Ray added a layup on a steal as the Lions took control.
But Free State sliced the lead to six by halftime.
That allowed the Firebirds to unleash their full-court pressure in the third quarter, and, when they did, the Lions had no answer. After a bucket from Buffalomeat put LHS up 25-21 early in the third, the Firebirds ripped off a 7-0 run to take a 28-25 lead. Josh May, Matthew Ruder, Alec Heline and Manning all scored during the run in which Free State forced three straight LHS turnovers.
"We had seen on film that they had trouble with the press," Watson said. "So once we put our press on them, we knew it was game over."
It might not have been if the Lions hadn't decided to settle for three-pointers the rest of the way. Perhaps panicked by the fact that the game they once controlled seemed to be slipping away, the Lions continued to hoist threes down the stretch, a clear sign that the inexperienced Lions felt they needed to get back on top in a single possession.
But that possession never came.
"We rely a lot on the three-point shot," LHS coach Mike Lewis said. "Those can make or break you, and we've been broken by them a couple of times this year."
LHS (0-6) was 6-for-25 from behind the three-point line for the night, including just 3-for-17 in the second half.
Still, it was as much what the Firebirds (3-2) did down the stretch — particularly defensively — as what the Lions didn't do that decided this game.
Manning scored nine points in the victory — including 6-of-6 from the free-throw line — senior Josh May chipped in eight points and eight rebounds, and all 10 Firebirds who played scored at least two.
Free State's victory snapped a three-game losing skid to the Lions that dates back almost exactly two years. Although most of the players who contributed to Saturday's victory did not play in all of those games, finally getting Free State back into the win column against LHS was a fantastic feeling for all of them.
"I'm going to go home and sleep really good tonight," Watson said.
Copyright 2018 The Lawrence Journal-World. All rights reserved. This material may not be published, broadcast, rewritten or redistributed. We strive to uphold our values for every story published.