Shawnee — If they gave points for defense, the Lawrence High girls basketball team would have run away with Friday's game.
But the only time they award points is on the offensive end, and the Lions struggled mightily there, shooting just 28 percent on the night and finishing 6-of-15 from the free-throw line in a loss to the Cougars.
Photo Gallery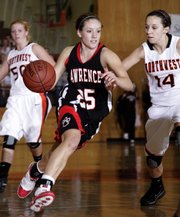 LHS girls vs. Shawnee Mission Northwest
LHS (1-4) stayed close during the first two quarters, trailing just 10-7 after one and 19-15 at the half. But SMNW pulled away ever-so-slightly in a fast-paced third quarter. The teams combined nearly to match the output of the entire first half in the third quarter (34-28), thanks in large part to LHS forcing a faster game. The Lions forced 23 turnovers (and committed just 13) but rarely were able to capitalize.
"Our defense led to some great opportunities," LHS coach Nick Wood said. "But too many times we came down and turned the ball over or missed a layup or missed a shot. You can't do that if you want to win games, and, tonight, that was the difference in the ballgame."
Haley Parker led LHS with seven points, while Jasmyn Turner and Tamiya Green chipped in six apiece.
Both teams will look to bounce back tonight, when they travel to Free State High to battle the Firebirds. The girls will tip off at 6 p.m., and the boys will follow around 7:30.
Copyright 2018 The Lawrence Journal-World. All rights reserved. This material may not be published, broadcast, rewritten or redistributed. We strive to uphold our values for every story published.