Photo Gallery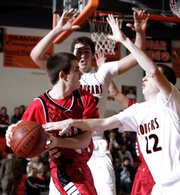 Lawrence High vs. Shawnee Mission Northwest
Shawnee — Sometimes, there's just no substitute for experience.
Friday night was one of those moments for the Lawrence High boys basketball team, which dropped a heartbreaker to deep and experienced, league-favorite Shawnee Mission Northwest, 46-42, at SMNW.
Trailing by just two at the halftime, the Lions outscored the Cougars 12-4 in the third quarter and took a six-point lead into the fourth quarter.
That lead held up for nearly five minutes of the final frame, but then the young Lions — who had three sophomores on the floor for most of the fourth — started tripping over their paws.
First came a charging call on a hard drive to the basket by senior Drake DeBiasse with LHS trailing 39-38. LHS followed that up with stern defensive stands on the other end, but gave both opportunities back with a pair of turnovers.
The Cougars closed out the game from the free-throw line and left the floor with the look of a team that was happy to survive. The Lions, meanwhile, rode away from the Northwest gymnasium with mixed emotions.
"It was right there for us," LHS coach Mike Lewis said. "You hate to say what coulda or shoulda happened, but we were right there. The effort tonight was great."
LHS trailed by as many as seven points midway through the second quarter, but sliced the halftime deficit to two with an 8-2 run to close out the quarter. Sophomore Anthony Buffalomeat scored his only four points of the night on back-to-back buckets late in the period. Sophomore K.J. Pritchard (nine points, two steals, two blocks and three assists) and senior Marcus Ray (12 points on 4-of-6 shooting) added the other baskets, and the Lions hit the locker room with a dose of momentum.
Five players accounted for the 12 LHS points in the third quarter, the biggest shot coming from senior forward Steve Melton, who buried a three-pointer from the corner to give the Lions (0-5) their first lead.
Big men Matt Montes de Oca and Jake Johnson also came up huge in the quarter, each grabbing a few rebounds and chipping in two points.
"I think we're starting to figure it all out," said Montes de Oca, who finished the night with eight points and four rebounds. "Later in the year, we're going to be rolling on all cylinders, but it's frustrating because we were so close to that first win."
Ray said he thought nerves had a little to do with the Lions' late-game struggles.
"With us having that lead, I think we were just a little too nervous, and we let it get to us and played a little out of character," he said. "But this was a big step for us. Even though we didn't get a win, it helped our confidence, and that's what we need most right now."
Copyright 2018 The Lawrence Journal-World. All rights reserved. This material may not be published, broadcast, rewritten or redistributed. We strive to uphold our values for every story published.