Photo Gallery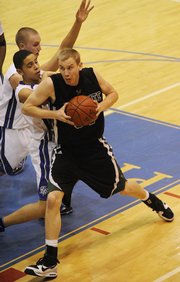 Free State vs. Leavenworth
Leavenworth — Free State boys coach Chuck Law can't wait for tonight's Lawrence High game after the Firebirds' 20-point loss to the potent Pioneers.
"We get a chance to get a bad taste out of our mouths immediately," Law said.
At least the Lions don't have a player as talented as the Pioneers' Nino Williams. The 6-5 senior forward, who has made an oral commitment to Kansas State, torched Free State for 29 points.
"He's as good a player as there is in Kansas, except for Perry Ellis," Law said. "If he's going to make his shots, you're powerless to stop him."
Ellis, a sophomore at Wichita Heights, is generally regarded as the state's premier prep prospect.
As tough as Williams was to defend, Law was more perturbed about the Firebirds' shabby shooting. They shot a chilly 29.3 percent and, said Law, "We had a lot of open looks."
Not a single Firebird scored in double figures. Alec Heline came off the bench to lead Free State (2-2) with nine points.
Now the Firebirds have an opportunity to end their two-game skid against the winless Lions.
"Honestly, I don't know a heckuva lot about them," Law said, "but like us they're having some growing pains."
No Free State players were made available after Friday's game. Law said he will allow them to talk to the media only after victories.
Copyright 2018 The Lawrence Journal-World. All rights reserved. This material may not be published, broadcast, rewritten or redistributed. We strive to uphold our values for every story published.