Photo Gallery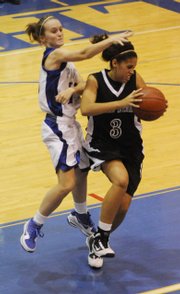 Free State girls vs. Leavenworth
Leavenworth — Look ahead? Not Free State High's girls basketball team.
"We didn't mention Lawrence High in practice," Firebirds' senior Chantay Caron said after scoring a game-high 19 points in Friday night's 46-29 dispatching of Leavenworth.
With the Firebirds going against a weak Pioneers team, it may have seemed likely they would be pointing for today's 6 p.m. home game with crosstown rival Lawrence High. Not so.
"This is the only game we focused on," Free State coach Bryan Duncan said, "and that's because it was our first league game. We were worried about their style of play."
Leavenworth boasts plenty of quickness and did force the Firebirds into 16 turnovers, but the Pioneers threw bricks all over their gym, hitting a woeful 10 of 46 shots for just 21.7 percent.
"They're a good defensive team," Duncan said of the Pios, "but we played pretty good defense ourselves."
Ten of Leavenworth's misses were credited as Free State blocks. Ashli Hill, a 6-foot-5 center, had five blocks, and the 5-11 Caron had three. And Free State (3-1) forced the Pios into 19 turnovers.
Now the Firebirds can begin thinking about tonight's clash with the Lions.
"I don't know a whole lot about them," Duncan said. "I saw them play once, and I know they have excellent shooters. That's what sticks out."
Duncan noted, too, that the Lions shouldn't be intimidated by playing in the raucous Free State gym because they have five senior starters.
"It helps a little bit that we know their personnel," Caron said, adding she doesn't feel the Firebirds have an advantage playing at home.
"Either way is fine with me," she said.
Wren Wiebe is another senior who isn't treating tonight's intracity battle as Armageddon.
"It'll be just like any other game … only more intense," Wiebe said. "Having them at home doesn't really matter."
Caron was the lone Firebird in double-figure scoring. Wiebe had nine, and sophomore guard Lynn Robinson, who swished a three at the halftime buzzer, added eight.
Copyright 2018 The Lawrence Journal-World. All rights reserved. This material may not be published, broadcast, rewritten or redistributed. We strive to uphold our values for every story published.