Lawrence Memorial Hospital's Board of Trustee meeting on Wednesday, Dec. 16, was bittersweet.
Board member Dr. Mark Praeger, a longtime Lawrence surgeon, received a standing ovation for having served on the nine-member board since 2001. It was his last board meeting and the self-described "tough guy" shed a few tears as he was thanked for his service. He chaired the Human Resources Committee and served on the Facilities and Compliance Committees.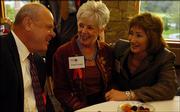 Praeger has been in private practice with Lawrence Surgery Associates, which is merging with another private surgery practice called General Surgery. The new group will be known as Lawrence General Surgery, and they will be employed by LMH. The new group also includes Drs. Steve Myrick, William Freund Jr., and Cheryl Rice.
The merger becomes official Jan. 1, and the group will be moving to the second floor of the hospital and into the area that formerly housed Cardiovascular Consultants. The doctors will begin seeing patients there on Jan. 4.
Since Praeger is becoming an employee of the hospital, he is no longer eligible to serve on the Board of Trustees.
Praeger's term would expire in September 2010, so Lawrence Mayor Rob Chestnut will have to appoint someone to complete the term.
Copyright 2018 The Lawrence Journal-World. All rights reserved. This material may not be published, broadcast, rewritten or redistributed. We strive to uphold our values for every story published.