Photo Gallery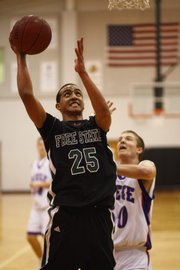 Free State vs. Bishop Miege
Bonner Springs — Each member of the Roeland Park Bishop Miege boys basketball team did not have three or four hands. It only looked like it.
Behind a slew of steals and Free State turnovers, Miege finished off the Bonner Springs Metro Prep Tipoff Classic in style Saturday night, with a 71-38 victory against the feisty Firebirds.
Although they stayed close for most of the first quarter — and even led 7-5 midway through — FSHS saw Miege rip off a 13-0 run that put the Stags out front to stay.
During the run Miege senior Trevor Releford — the younger brother of Kansas University sophomore Travis Releford — scored four points, tallied two assists and had one steal.
In all, the Stags forced Free State into 15 first-half turnovers with nearly half of them coming off of steals. Miege extended its defense five or six feet beyond the three-point line and constantly played the passing lanes.
"Those guys are just so athletic and so long and they play the way they play to speed you up so they can get out in transition," FSHS coach Chuck Law said. "That's just a really good basketball team over there. They have 10 seniors and a ton of experience."
Saturday, that showed.
The Firebirds (2-1) weren't without their good moments and bright spots. Free State played a competitive first quarter, refused to quit throughout the night and had moments when it looked like the better — even tougher — team.
Then there were other times, such as at the end of the third quarter when the Firebirds tried to roll the ball up to save time, struggled to pick it up near halfcourt and then chucked a pass out of bounds — turnover No. 20 — as the buzzer sounded on the quarter.
On the whole the size, experience and athleticism of the Stags was simply something the Firebirds were not quite ready for.
Josh May led Free State with 12 points and five rebounds. May also was named to the all-tournament team.
No FSHS players were made available following the loss, but Law said he had a pretty good idea about where his team stood after three games.
"I don't think this game tonight is going to take away from what we accomplished here," he said. "We came here to get two wins, no matter how we got those, and to breathe some life into a program that needed it and restore some confidence in some kids who needed it."
Rodney Givens (21 points and tourney MVP honors) and Releford (12 points and eight assists) led the Stags, who shot 69 percent from the floor.
Copyright 2018 The Lawrence Journal-World. All rights reserved. This material may not be published, broadcast, rewritten or redistributed. We strive to uphold our values for every story published.