Photo Gallery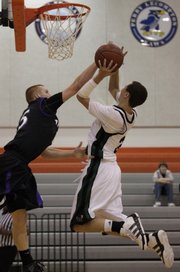 Free State vs. Valley Center
Bonner Springs — Roughly five minutes after the Free State High boys basketball team left the court Friday night, the Firebirds' locker room erupted with cheering.
Make no mistake, the Firebirds weren't celebrating like they just won a championship. But clearly, their 54-46 victory over Valley Center in the Metro Prep Classic led to a festive postgame atmosphere.
The reason? Free State has only played two games this year. The Firebirds have won both of them, already surpassing their win total from last year.
Suddenly, a difficult 2008-2009 season seems like ancient history, as Free State finds itself in the finals of the Metro Prep Classic at 6:15 tonight against Roeland Park Miege.
"Amazing. We can't get enough of it," senior forward Ryan Scott said. "People were jumping around, getting excited. It's two wins. That's double the amount from last year. As far as we're concerned, we're having a great year so far."
Free State coach Chuck Law admitted it was tough for some of the players to hold their heads high after the losses piled up last year. They were teased by many, even mocked by some. All the more reason this 2-0 start is creating a rejuvenated sense of optimism around the program.
"It's never about me or about our coaching staff," Law said. "It's about our kids and they are ecstatic. Those kids who went through that last year ... it was difficult for them. You could just see the pressure of that has been lifted off their shoulders. That's a great feeling for them. That's what matters."
Free State and Valley Center began the game with an equal amount of missed opportunities. The Hornets led the Firebirds, 8-6, after a slow-moving first quarter.
Then, the Firebirds settled into a groove.
Senior post Matthew Ruder made a significant impact off the bench. Ruder ignited Free State in the second quarter with a layup, plus the foul, to give the Firebirds a 9-8 edge. He missed the free throw, but you could tell many of Free State's guards — namely Evan Manning, Alec Heline and Nick Hassig — felt more comfortable feeding the ball into the post after Ruder entered the game.
Ruder led a balanced Free State scoring attack with 10 points. Scott, Manning and Brett Frantz pitched in eight apiece.
"I just cut to the open places," Ruder said. "If there's an open space, I'll go there and my teammates will find me."
Ruder's court awareness has caught the attention of his coach.
"He really gets it," Law said of Ruder. "He's been so good. Probably more so than anybody we have, he carries over what we do in practice to games. He's patient. He's finishing now, which has always been a bugaboo for him. He's been huge."
By the half, Valley Center clinged to a 25-24 advantage.
Free State took charge in the second half, outscoring the Hornets, 30-21.
With the game tied at 37, the smooth-shooting Manning hit a three-pointer from the top of the key, and the Firebirds never again trailed.
"He's got great floor sense and understands how to play," Law said of the junior Manning. "We were missing that point guard so desperately last year. Having somebody out there who can be an extension of the coach on the floor, and can direct, organize and communicate, is critical."
Free State clinched the game with clutch free throw shooting. The Firebirds shot only 14-of-23 from the charity stripe, but made six of their last seven. Frantz hit all four of his late tries.
"I could not be more proud of how the guys sealed the game," Law said. "Those guys did a fantastic job. They were solid defensively and knocked down their free throws."
Copyright 2018 The Lawrence Journal-World. All rights reserved. This material may not be published, broadcast, rewritten or redistributed. We strive to uphold our values for every story published.