Photo Gallery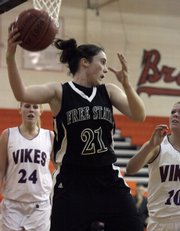 Free State vs. Seaman
Bonner Springs — Senior Chantay Caron led the Firebirds with 19 points, but Free State struggled to find an offensive rhythm in a 35-32 semifinal loss to Topeka Seaman in the Metro Prep Classic.
"It was a low-scoring affair where no one could seem to score," Free State coach Bryan Duncan said. "We didn't shoot the ball well and weren't able to hit our perimeter shots."
Duncan said he was impressed with the defensive showing from senior center Ashli Hill, who contributed four points.
"She's learning not to commit the silly fouls," Duncan said of Hill. "She blocked a lot of shots and rebounded very well."
Jackie Garcia added four points, while Lynn Robinson had three for Free State.
The Firebirds dropped to 1-1 and will face Shawnee Heights at 1 p.m. today in a third-place clash.
Copyright 2018 The Lawrence Journal-World. All rights reserved. This material may not be published, broadcast, rewritten or redistributed. We strive to uphold our values for every story published.