Photo Gallery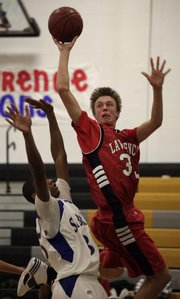 Lawrence High vs. K.C. Sumner
Overland Park — For most high school basketball squads, there's a learning curve that must be conquered before a team can hit its stride.
And with a young team like Lawrence High, which features three sophomores playing big-time minutes, the lessons typically come fast and hard.
Thursday, during a 53-50 loss against Sumner Academy in the first round of the Blue Valley Tournament, the Lions added to the list of things they've learned this season and also took a big step forward toward becoming a finished product.
"There are always ways you can come back and do something better that you didn't do in the last game," said sophomore guard K.J. Pritchard, who tallied nine points, three rebounds and three assists. "We're just not a very experienced team yet, but with each game we get more experience and I think that's going to help us."
With just one game under their belts, the Lions proved Thursday that they learned plenty from last week's road loss to Washburn Rural. Instead of playing too fast too soon and watching their opponent take advantage, the Lions controlled the tempo on both ends and headed into halftime with a 28-19 lead.
The two teams traded buckets — and leads — throughout most of the first half before Pritchard got hot from behind the arc. Back-to-back three-pointers from the 6-foot-2 sophomore broke a 17-all tie and pushed LHS out to a six-point lead. After a defensive stop on the next possession, Pritchard nearly launched another triple but instead made the extra pass to a wide-open Steven Melton (8 points, 3-of-4 shooting), who buried a three-pointer of his own to give the Lions a nine-point lead.
While Pritchard's hot streak got LHS rolling, he was quick to point out that his team would not have been ahead without the effort of fellow-sophomore Anthony Buffalomeat. The 6-3 Buffalomeat had 12 points and 11 boards in the first half alone. In all, he led the Lions in points (19) and rebounds (13).
Although a tip-in by Sumner's Reese Holliday just before halftime cut the LHS lead to nine, the Lions raced to the locker room with a bounce in their step.
But that bounce disappeared quickly when, for the second game in a row, an opponent's run doomed the Lions (0-2). This one, a 17-0 sprint by Sumner, spanned the first 5:48 of the third quarter and turned the Lions' 28-19 lead into a 36-28 deficit.
"Offense looks good when shots are falling," LHS coach Mike Lewis said. "But when shots aren't going down, we have to learn how to do things to help us get back in it."
The Lions closed the third quarter on an 11-5 run and even reclaimed a two-point lead — 46-44 — with 5:30 to play before scoring just four more points the rest of the way. LHS shot 40 percent (20 of 50) for the game and struggled to contain Sumner's Davonte Chaney (18 points, 5-of-8 from three) and keep the Sabres off the offensive glass.
"Their high-post look hurt us and the three-point shot hurt us," Lewis said. "We have to make adjustments a little quicker on defense. But I was happy with the way we continued to fight. We were right there at the end against a pretty good team. We're going to continue to take little steps each game."
Copyright 2018 The Lawrence Journal-World. All rights reserved. This material may not be published, broadcast, rewritten or redistributed. We strive to uphold our values for every story published.