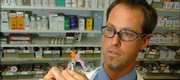 An outbreak of H1N1 Swine Flu was reported in Mexico in April 2009. By the end of May, it had spread across the U.S., with all 50 states reporting cases.
Atlanta — Swine flu has sickened about 50 million Americans, and killed about 10,000, according to new estimates released by federal health officials on Thursday.
That means about 1 in 6 Americans have had the illness, said Dr. Thomas Frieden, director of the Centers for Disease Control and Prevention.
The estimates are for the first seven months of the pandemic, from April through mid-November. The new numbers are a big jump from previous estimates, which said swine flu had sickened 22 million Americans and killed about 4,000 through mid-October.
Most of the increase is due to cases that occurred after early October, when the nation saw the peak of a second wave of illness, CDC officials said.
The CDC also estimates that nearly 200,000 people were hospitalized through mid-November — about the same amount that occurs normally in an entire winter flu season.
While the elderly account for most of the hospitalizations and deaths from seasonal flu, the largest proportion of reported swine flu hospitalizations and deaths are in non-elderly adults, CDC officials said.
More than three-quarters of the deaths were people ages 18 to 64, according to the CDC.
The new estimates seem to echo an unpublished, in-depth CDC analysis of 100 U.S. swine flu deaths. About 80 percent of those deaths were in people ages 20 through 59, and 45 percent were obese, that research found.
Flu estimates are tricky and inexact because many illnesses are relatively mild and go unreported, and hospitalizations and deaths often involve maladies beyond the flu. The CDC actually thinks that between 34 million and 67 million Americans have gotten sick from swine flu, but Frieden gave 50 million as a midpoint estimate.
Flu estimates are also difficult to compare. Seasonal flu kills about 36,000 Americans each year, according to a long-standing estimate. But that number includes many elderly people who had not only seasonal flu and related pneumonia but also heart attacks and strokes. The new CDC swine flu estimates do not include heart attacks and strokes, mainly because there hasn't been time to collect that kind of data.
So it's likely the new estimate is conservative, and undercounts elderly deaths, CDC officials acknowledged.
Copyright 2018 The Associated Press. All rights reserved. This material may not be published, broadcast, rewritten or redistributed. We strive to uphold our values for every story published.