A 72-year-old woman from the Wichita metropolitan area has died from infection with the H1N1 influenza virus.
The Kansas Department of Health and Environment reported Thursday that the death brings the total number of confirmed H1N1 deaths statewide to 22.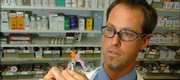 An outbreak of H1N1 Swine Flu was reported in Mexico in April 2009. By the end of May, it had spread across the U.S., with all 50 states reporting cases.
The woman had underlying health conditions that placed her at greater risk for severe complications of influenza.
"About 75 percent of Kansans remain susceptible to the 2009 H1N1 flu virus, and deaths resulting from this virus are still occurring," said Dr. Jason Eberhart-Phillips in a press release. "These facts should be all the encouragement anyone needs to take precautions and get vaccinated."
The Lawrence-Douglas County Health Department's next H1N1 immunization clinic is open to anyone. It will be from 9 a.m. to noon Saturday, Dec. 12, at the Community Health Facility, 200 Maine.
Copyright 2018 The Lawrence Journal-World. All rights reserved. This material may not be published, broadcast, rewritten or redistributed. We strive to uphold our values for every story published.