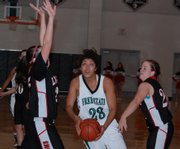 Bryan Duncan took a deep breath as he walked out of the locker room. This one was a bit too close for comfort for the Free State High girls basketball coach.
Free State played much of the night with star Chantay Caron on the bench with foul trouble, but the senior returned in crunch time and helped the Firebirds hang on for a 53-46 victory against Lansing on Thursday in the first round of the Metro Prep Classic.
"We certainly knew we got a very tough draw tonight playing Lansing. They're an excellent basketball team at any point in the season, so we knew that we had our hands full tonight," Duncan said. "Our kids responded well, and that was a great early-season basketball game."
Free State took charge early and used a balanced attack to build a 14-6 lead by the end of the first quarter. Five different players scored in the quarter, including four points apiece from Lynn Robinson and Ashli Hill.
Caron got in foul trouble early in the second quarter, however, and Lansing found its groove with the Free State standout on the bench.
Lansing pulled within 20-17 on a layup by Katelyn Griffen, but Free State countered with a 3-pointer from Wren Wiebe at the top of the key. Later, a free throw by Jackie Garcia extended the lead to 24-17. The Lions closed the quarter on a 6-2 run, however, and trailed just 26-23 at halftime.
Free State picked up the defensive intensity early in the third quarter and held LHS scoreless for nearly five minutes while forcing four turnovers. During that time, Caron made a layup and Hill hit a turnaround jumper to stretch the lead to 30-23.
Caron picked up her fourth foul midway through the quarter, and Lansing sensed an opportunity. It used its pressure defense to force three turnovers that it turned into points. Amy Briggs buried a pair of 3-pointers during an 11-0 Lion run, and suddenly LHS led 34-30 with 31 seconds left in the quarter. Caron returned to the court promptly. Hill scored on a layup, FSHS forced a turnover and Caron scored at the buzzer to tie the game at 34-34 entering the final quarter.
The teams traded baskets for the first four minutes of the final quarter, but Caron proved to be too much for Lansing down the stretch. She scored 12 of her team-high 18 points in the quarter — including making all four of her free throws in the final 1:16 - as Free State survived.
While Duncan said he was proud of his team for pulling out a hard-fought victory, he was particularly pleased with the way his young guards withstood Lansing's pressure while Caron was out of the game.
"Our primary ball handlers were all new to varsity this year, and they got pressured like crazy tonight against a very good team that can really pressure you, and they stayed calm and composed and were well prepared for the evening," Duncan said.
Briggs led Lansing with a game-high 19 points.
Hill joined Caron in double figures for FSHS with 12 points and Wiebe added 9.
Free State (1-0) will play Topeka Seaman in the semifinals at 8:15 p.m. today.
Copyright 2018 The Lawrence Journal-World. All rights reserved. This material may not be published, broadcast, rewritten or redistributed. We strive to uphold our values for every story published.