-->
Photo Gallery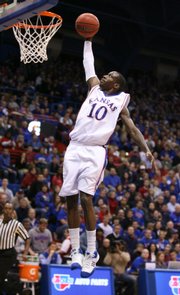 KU vs. Radford
They bounce around from college town to college town, pregame meal to pregame meal, all in the name of talent.
An NBA scout's job is never done, and on some nights, such as Wednesday in Allen Fieldhouse, where Kansas downed Radford, 99-64, the job can be more involved than others.
At some point Wednesday, the four pro scouts in attendance jotted down notes about nine potential NBA players. The notes all were different, the systems all unique, but each set shared a common theme.
"It's kind of like going to a dance," said one scout, who agreed to talk about the process but asked to remain unnamed. "If Ms. America's there, we'd probably all ask her to dance. But outside of that, we wouldn't all ask the same girl to dance.
"Obviously, you look for talent. But the most important thing you look for is size and speed. It's important to see that live, but you've gotta realize that we're going to watch a lot of video on these guys."
Another reason attending games is so important, scouts say, is because they're able to catch the "off-camera" happenings that are so critical to evaluating potential draft picks.
Would I want to coach him? Would I want to play with him? How does he interact with teammates? How important is winning to him? All of those things, and many more, cascade from their brains down to their pencils and into their notebooks throughout any given night.
"There are certain players you know are going to get picked," the scout said. "The question is: Where do you pick them?"
Here's a taste of the plays that helped them decipher that Wednesday night:
• KU junior Cole Aldrich showed he has the size and skills to hang. Aldrich started with a bang, ripping a rebound away from Radford big man Art Parakhouski in the opening minute. He wrestled another away seconds later and threw down a dunk and blocked a Parakhouski shot, all before the first TV timeout.
• Speaking of Parakhouski, the bruiser from Belarus used what has to be his biggest asset, strength, to turn in a respectable game of 21 points and 13 rebounds in 34 minutes. He struggled mightily with KU's aggressive double team — but who wouldn't? — and, at times, seemed a bit slow.
As for other Jayhawks who might have NBA futures, these guys most likely stood out to the scouts Wednesday:
• Freshman Xavier Henry finished with modest numbers but used his strength to make a difference in the paint and his quickness to deliver three blocks and two steals.
"What makes it hard is these kids," according to the scout. "We used to have a saying where, even for four-year guys, it took three years for you to see what they could do. It's not that way anymore."
• Freshman Elijah Johnson unleashed his super-human athletic ability and showed why KU coach Bill Self elected to give him the first start of his career. At times, it was almost as if Johnson were auditioning for the scouts. He was solid in transition, aggressive at the rim and perfect from three-point range. Perhaps more importantly, he showed no signs of a bad attitude after two quick fouls sent him to the bench early, limiting him to just 15 minutes.
• Senior Sherron Collins is the focal point for most opposing defenses. What might allow him to make the leap to the next level is his understanding of how to run a team. Collins scored inside and out and added a game-high eight assists.
• Scouts saw all they needed to see from freshman Thomas Robinson when they walked into the arena: a monster frame on an athlete's body.
With so many scoutable players on the floor, one might wonder how the NBA talent evaluators were able to narrow it down and focus on the players they were interested in watching. Easy, according to another of the pro scouts on hand.
"We're really just looking for what we particularly need," he said. "We don't have a preference for great games or how many great players might be playing. But when you come to Kansas, you know there are going to be plenty of players to watch."
Copyright 2018 The Lawrence Journal-World. All rights reserved. This material may not be published, broadcast, rewritten or redistributed. We strive to uphold our values for every story published.