-->
Photo Gallery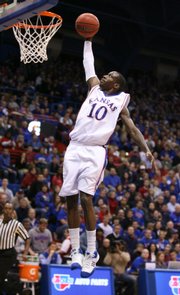 KU vs. Radford
C.J. Henry wants to do more than just impress Kansas University coach Bill Self when he gets his chance to play in games.
"I feel I have to prove myself to anybody who's a basketball fan or anybody watching the game. I haven't played a competitive game in four years. Every time I step on the court, I have to prove something," Henry, the Kansas University guard, said after the Jayhawks' 99-64 victory over Radford on Wednesday. "That may not be in the form of points, just that I can play the game of basketball."
The freshman guard showed that he might just deserve an increased role with his performance Wednesday.
Henry scored 11 points in just 10 second-half minutes, making four of his five shots.
"That's what I was as a basketball player (in high school). I was a scorer and a playmaker," Henry said. "I don't know how to play any different, so that's how I play."
Henry's minutes had been limited early on partly because of a nagging knee injury and partly because Self just hasn't seen him play much.
"Tonight, we put him out there ... he looked good," Self said. "He did some good things — not just because he made shots. He moved pretty well. He looked quick and athletic.
"I would anticipate him getting some more clock as we go forward if he continues to improve."
Henry was especially accurate from long range, as he made three of his four three-point attempts.
"My dad taught me and my brother how to shoot, so we shoot the same," said C.J., referring to his brother, Xavier, who also plays for KU. "Shots go in when we shoot them."
C.J. also contributed defensively, posting a blocked shot and a defensive rebound. He showed more bounce and increased athleticism, mostly because of his knee's improvement.
"I felt really, really good tonight," C.J. said. "It's coming along. It's getting better each and every day.
"It's not how it was when I'd feel good, and then it'd be aggravating for the next couple days, then I'd feel really good. It's getting better every day now."
C.J. admits there were times this season when not playing was difficult.
"Sometimes I can be a little impatient, as anybody could," C.J. said. "It's frustrating sometimes, just wanting to be out there with your teammates and just being able to help your team win. I try my best to be patient, and that's one thing coach tells me. Just be patient."
Copyright 2018 The Lawrence Journal-World. All rights reserved. This material may not be published, broadcast, rewritten or redistributed. We strive to uphold our values for every story published.