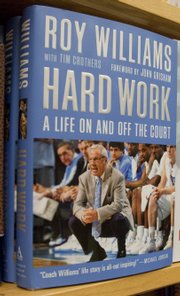 Rock Chalk it up to home-court advantage.
As expected, Bill Self's chronicle of coaching basketball at Kansas, "Bill Self: At Home in the Phog," continues to outpace the latest literary effort from his predecessor: "Hard Work" by Roy Williams.
In Lawrence, anyway.
"There's no comparison," said Lisa Eitner, general books buyer for Oread Books, in the Kansas Union.
But Williams isn't exactly getting run out of the gym.
The book, written by the former Kansas coach with help from Tim Crothers, outlines Williams' approach to coaching and how it came to be: from his childhood in North Carolina, to prominence in Lawrence, and back again to Chapel Hill to win national championships and continue striving for more at North Carolina.
A respectable six out of the 10 copies delivered to Oread Books have been sold so far, Eitner said.
"I think everyone knows that he is a good man," Eitner said. "He just wanted to go home."
Self's "At Home in the Phog," written with John Rohde, has sold more than 800 copies at Oread Books. That's where he drew about 300 people for a signing event a year ago, and he'll be doing another one from 6 p.m. to 7 p.m. Dec. 18, when he'll also be signing copies of the "ESPN College Basketball Encyclopedia."
"We're very honored that Coach Self has agreed to do this," Eitner said.
At Borders in downtown Lawrence, buyers have snapped up 23 copies of "Hard Work," spurring the store to bring in a second shipment for holiday shoppers.
"I'm not surprised, because I don't think there's any bad blood," said Rob Dover, who orders books for the store. "People are interested in what he's doing now."
Scot Pollard, who played for Williams before embarking on an NBA career, read "Hard Work" and acknowledges that his former coach is a Tar Heel and the book is "written for a Tar Heel crowd." But the pages offer insight into the man, Pollard said, and his genuine love for all things crimson and blue.
"It's Roy," said Pollard, who used to live down the street from Williams in Lawrence. "It's definitely him writing it. I can hear him talking.
"He goes through his time here and has nothing but positive things to say about his years in Kansas. You wouldn't expect anything else from him."
Copyright 2018 The Lawrence Journal-World. All rights reserved. This material may not be published, broadcast, rewritten or redistributed. We strive to uphold our values for every story published.