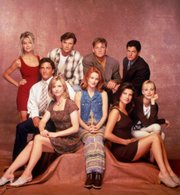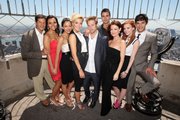 Although some may argue that it never left, nostalgia for 1990s music, fashion and entertainment is back in trend. From our TVs to our closets, the '90s have influenced comeback shows like The CW's "Melrose Place" and "90210" and the resurgence of grunge fashion, inspired by bands like Pearl Jam.
Nostalgia for '90s music
Nineties music genres have yet to re-emerge among the sounds of modern musicians. Still, music lovers continue to buy popular '90s albums and songs online and in record stores.
Brad Shanks, of Love Garden Sounds, 822 Mass., says the store continues to sell classic '90s albums from bands like Nirvana and Soundgarden.
But don't expect to see contemporary imitations of '90s music any time soon. "It's not so much that new bands are copying the '90s sound," Shanks says. "It's more of a nostalgia for the decade."
Albums from the '90s that continue to sell are those that were especially popular when they were released. It's not just for the music, however. Shanks says that people still buy '90s albums for many reasons.
"People who come in and buy those albums want them, not just because they've heard the music a thousand times, but to reminisce," he says. "They want the actual CD just to have it in their collection."
Popular '90s artists such as Alice in Chains, Creed, Weezer and Pearl Jam have made it on to Billboard's top 200 selling albums this year.
'90s fashion now
It's been a long time coming. Nineties-inspired clothing is back in style.
The '70s and '80s have dominated decade-inspired trends over the years, but now it's the '90s' time to shine. >From plaid and flannel to babydoll dresses and floral prints, '90s looks are making their way from the runway to local retail stores.
Phil Chiles, owner of Wild Man Vintage, 939 Mass., says it's not huge yet, "but '90s fashion is slowly creeping back."
Just like listening to '90s music is no longer considered behind the times, it has been long enough now that '90s fashion is considered vintage.
Neesa Hussain, of Wild Man Vintage says, "The most inspired decades right now are definitely the '80s and '90s."
The grunge look, inspired by '90s bands, has made its way into the ever-evolving "hipster" scene.
Lisa Roberts, of Arizona Trading Company, 734 Mass., says, "Music and fashion go hand in hand. Bands like Nirvana and Pearl Jam are inspiring fashion again."
Roberts says acid-washed fabrics, distressed jeans and Dr. Martens are showing up in uber-trendy magazines like Nylon. It's the "I don't care mentality" of the grunge look that is so popular, Roberts says. Pants especially, "need to look like they have been worn for twenty years."
So if fashion is reciprocal, save your clothes. What you're wearing now will most likely be popular again.
TV show comebacks
In 2008, the CW network launched a modernized version of the '90s teen drama "Beverly Hills 90210." Casting newcomers like Shenae Grimes and AnnaLynne McCord, the show started out with average reviews.
Original show alumnae Shannen Doherty, Jennie Garth and Tory Spelling have helped boost ratings, guest-starring as their original 90210 characters Brenda Walsh, Kelly Taylor and Donna Martin.
But the CW's latest remake attempt, "Melrose Place," premiered to disappointing reviews in September. As the season progressed, the series proved to be mostly unpopular among viewers and reviewers.
Mary McNamara of the Los Angeles Times says of the new Melrose, "Nothing is said that hasn't been said, nothing is done that hasn't been done, and as the group of friends who share little save a shoe size and an address gather poolside, even the sunlight looks fake..."
Kansas University student Stephanie Becker says the '90s comeback shows don't appeal to her. "I sometimes watch 'Gossip Girl' on the CW, but I'm not interested in 'Melrose Place' or '90210,'" she says. "They seem to be targeted to a younger, tween audience. For me, they are too cheesy and a waste of time."
Copyright 2018 The Lawrence Journal-World. All rights reserved. This material may not be published, broadcast, rewritten or redistributed. We strive to uphold our values for every story published.