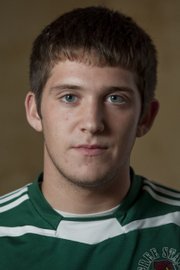 When Free State High senior Daniel Chance thinks back to the 2009 soccer season, it won't be a goal, a shot or even an assist that jumps to the front of his memory.
At least not one of his.
Instead, Chance, who twice has been named to the Class 6A all-state squad and, now, is a repeat winner of the Journal-World's All-Area Player of the Year honor, will remember the goals and assists of his teammates that helped lead the Firebirds to their best finish in school history — second place at the state tournament.
"This year was just so much more special than any of the years before," Chance said. "I got those rewards that I had gotten in the past but, this year, the team got rewarded, too. And, to me, that's the most important part."
It's easy for a senior captain to say that the team is what matters most. But for Chance, that notion went well beyond words. Each day, whether in practice or during games, he was the guy who tried to set the tone for the rest of the team. He often worked the hardest, complained the least and always showed a well-rounded understanding of his role on the team.
"He's not a statistics-driven guy, he's not motivated by that," Free State coach Jason Pendleton said. "He's a little like a car. When it's running well, you don't notice that it's running well, you just know that it's just doing what it's supposed to be doing. He clearly enjoys having some offensive success, but more than anything just wants to do what's best for the team."
Some days that meant swallowing a strong dose of humility. Although Pendleton always appreciated Chance's tireless work ethic and team-first mentality, there were days when the coach had to jump on his star senior.
"If you're best player on team you have to play like it," said Pendleton, recalling a message he sent Chance during one point in the season. "And with him being the kind of kid he is he really raised his game to a higher level after that."
It's moments like that, more so than the trophies and accolades, that Chance will remember about his time at Free State and his team's magical senior season.
"Pretty much every game, if I was down on myself or not playing to my potential, he would say that," Chance said. "Honestly, it's just him telling me that every day that I'll probably remember the most. My success is pretty much his. I wouldn't be the player I am today without having played for him."
For Pendleton, the memories of Chance were too long to list.
"He just gets it," Pendleton said. "He understands how to play. One of things that made him complete player and player he is today, is that we had to play him at defense his first two years. Through doing that I just think he was able to get a better overall understanding of how to play the game and how to transfer that knowledge to other positions on the field."
Chance, who finished 2009 with 11 goals and 6 assists, plans to continue his playing career at Kansas Wesleyan, an NAIA college in Salina.
"I'm really excited to go down there," he said. "I love the school, I love the coach and I think it's a great fit for me."
Copyright 2018 The Lawrence Journal-World. All rights reserved. This material may not be published, broadcast, rewritten or redistributed. We strive to uphold our values for every story published.