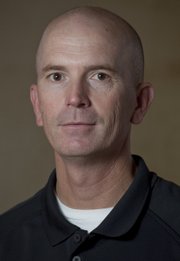 One of the biggest compliments a coach can receive is the unspoken act of his or her team buying into a system.
For Free State High boys soccer coach Jason Pendleton, who has spent the last 11 seasons shaping the Firebirds' program in his own image, the 2009 season became the ultimate high-five in a career filled with memorable moments.
"It's still an amazing feeling and sense of accomplishment," said Pendleton, now three weeks removed from leading the Firebirds into the Class 6A state title game, where they lost to perennial powerhouse Washburn Rural.
"We obviously have some good players, there's no doubt about it. But if you look at us top to bottom I'm not sure we had the second best talent in Kansas. Our kids all bought into what we were trying to do and accepted their roles and worked extremely hard because they knew what we were trying to achieve. We had great team, it wasn't about individual accolades. Ultimately, everybody sold out for the team objective and they were all willing to sacrifice for the betterment of the team."
That included Pendleton.
Always one to keep tight control over the way his program is run, Pendleton loosened up the reins ever-so-slightly this season and allowed a strong and experienced senior class to take on a large chunk of the leadership responsibilities.
In doing so, however, he did not deviate from what had made him a success throughout the years.
"Honestly, I think what kind of made this year was that he had been doing the same thing every year and he always holds everybody to the same expectations every year," senior Daniel Chance said. "You have to buy into what he's doing. Some people think he's (strict) but you have to understand that everything he does is with the best interest of the program in mind. It's important to him to make everyone he coaches better."
Pendleton has always operated with one mantra in mind: Every win is not a wedding and every loss is not a funeral.
Never was that ideal more clear than during the 2009 season, when the Firebirds raced out to a 7-1 start, with six of the victories coming via shutout.
After each, Pendleton evaluated his team by the way it played and not by the end result. Because of that, his players remained hungry. A 2-0 victory could have been 3-0 or 4-0. A 2-1 loss should have been a 1-0 win.
"He's really good at that," Chance said. "No matter how much success you have, he always brings it back down to reality."
Oftentimes that reality is rooted in the way he carries himself, and 2009 was no different.
"I'm sure I was the same grumpy, cantankerous guy that I've always been," Pendleton said. "When we didn't play well, I let 'em know it and when we did I let them know that, too."
At the end of the season, however, when the Firebirds were breaking new ground with every victory and roaring toward a runner-up finish in the Class 6A state tournament, Pendleton allowed himself to soak it all in.
"This season epitomizes what we've been working toward," he said. "Hard work beats talent if talent doesn't work hard. We had a mixture of hard work and talent, and I think that's the recipe for success."
Copyright 2018 The Lawrence Journal-World. All rights reserved. This material may not be published, broadcast, rewritten or redistributed. We strive to uphold our values for every story published.