On the street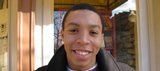 I like any tree lighting event. I work downtown and I come outside and just stare at the lights on the trees.
This weekend promises to be a big one for holiday season events in the Lawrence area. Here's a quick look at a few of the festive celebrations around town.
Saturday
● Eldridge Hotel Gingerbread Festival. A unique fundraiser and charity auction, the event features creations donated by local gingerbread artists, to be auctioned to benefit Big Brothers Big Sisters of Douglas County. The public can view the gingerbread works at Eldridge Extended, 201 E. Eighth St., 10 a.m.-6 p.m. today and Sunday; noon-7 p.m. Monday, with the auction at 7 p.m. Tuesday.
● Downtown Lawrence Old-Fashioned Christmas Parade, 11 a.m., downtown Lawrence. The parade starts at Seventh and Massachusetts streets and heads south through downtown. Channel 6 will have live coverage of the parade, which will be co-hosted by meteorologist Matt Elwell. Replays are scheduled for 8 p.m. Sunday, 10:30 a.m. Monday, and 10:30 a.m. and 11 p.m. Dec. 24.
In conjunction with the parade, Wells Fargo Advisors, a major parade sponsor, will conduct a food drive to benefit ECKAN Just Food foodbank. Several downtown merchants will have boxes in which to place nonperishable foods.
Sunday
● Fifth annual Health Care Access Holiday Homes Tour. Ticket proceeds from this showcase of holiday decorating at six locations around Lawrence will benefit the Health Care Access Clinic. The tour runs 1 p.m.-6 p.m. Locations vary. Tour maps are available at healthcareaccess.org. Tickets are $12 in advance or $15 same day.
● 79th annual Christmas Candlelight Vespers at Baker University. This concert, with performances at 4 p.m. and 7:30 p.m. at First United Methodist Church in Baldwin City, will feature performances by the Baker music departments choirs, brass ensemble, orchestra, percussion ensemble and flute ensemble.
● Lecompton Vespers, 2 p.m. at the Territorial Capital Museum, 640 Woodson St., Lecompton. People attending this year's Lecompton Vespers will hear performances by the Lecompton Community Choir, the Perry-Lecompton High School Choir, and the bell choir of the First United Methodist Church of Topeka.
● 85th annual KU Holiday Vespers. This year's Vespers concert will feature former KU director of choral activities, Simon Carrington, conducting a portion of the concert. The Lied Center on KU's West Campus will host two performances, at 2:30 p.m. and 7:30 p.m. Tickets are $12.50 for adults, $10 for students and seniors.
Copyright 2018 The Lawrence Journal-World. All rights reserved. This material may not be published, broadcast, rewritten or redistributed. We strive to uphold our values for every story published.