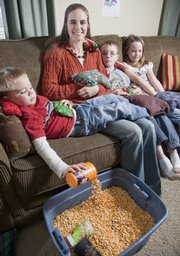 More information
• Holiday Extravaganza Arts and Crafts Show runs from 9 a.m. to 4 p.m. Saturday in Building 21 at the Douglas County 4-H Fairgrounds, 21st and Harper streets.
• More than 80 artisans will display handmade arts and crafts.
• Some spaces are still available to rent, and they cost between $50 and $75.
• For more information, contact Duane Peterson, the city's special events supervisor, at 832-7940 or at dpeterson@ci.lawrence.ks.us.
Usually, placing a bag of corn in a microwave leads to popcorn.
But not always. Sometimes, it's a way to heat the body and soothe sore muscles. That is, if you heat one of Lawrence resident Melissa Hunninghake's field corn bag heaters.
The fabric bag heaters are filled with field corn. They come in pocket size, a small pillow size, and in a thinner, longer shape to drape around your neck. Put them in the microwave for a few minutes, and you have an instant heater for a couple of hours. And no, the corn won't pop.
The heaters will be one of many crafts displayed at Saturday's inaugural Holiday Extravaganza Arts and Crafts Show at the Douglas County 4-H Fairgrounds.
Hunninghake got the idea to make corn bag heaters from her sister, who gave her one years ago. Hunninghake and her family use them at bedtime, snuggling the bags on their feet and behind their necks.
Last year she started making them with her three children — Macey, 8, Aaron, 6, and Blaine, 3. They began selling them to friends for the holidays and decided to expand the business this year to Saturday's show.
The heaters cost less than $10, and the Hunninghake family plans to use the proceeds for holiday gifts and school supplies.
Hunninghake said the bag heaters are also a fun holiday craft for her children, who are home-schooled. "I thought it'd be a great home ec thing," she said.
Each of the three children has a job in the process. Aaron and Blaine fill the bags with corn, and Macey does the sewing.
But the final say on the fabric used on the bag heaters is up to mom, who recently decided to use Kansas University and Kansas State University fabric on some of the heaters.
In their Lawrence home, which also doubles as the bag heater assembly plant, Blaine recently asked his mom about adding another college fabric to the product line.
"What about Missouri?" Blaine said.
"No, we won't be using Missouri," Hunninghake said.
For more information about the bag heaters, visit their Web site at wix.com/3kidscornbags/3kidscornbags.
Copyright 2018 The Lawrence Journal-World. All rights reserved. This material may not be published, broadcast, rewritten or redistributed. We strive to uphold our values for every story published.