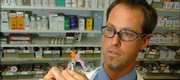 An outbreak of H1N1 Swine Flu was reported in Mexico in April 2009. By the end of May, it had spread across the U.S., with all 50 states reporting cases.
The latest count of Kansas University students with flu-like symptoms is down to 291 students. On Saturday, that number was 313.
KU spokesman Todd Cohen said in an e-mail on Sunday that it is the first decline in the number since the start of classes.
CNN is scheduled to air a report tonight by medical correspondent Elizabeth Cohen on university responses to H1N1. The report will air during "Anderson Cooper 360" starting at 9 p.m. today.
Cohen and a CNN crew were on campus Friday to interview students and administrators about KU's approach to the disease, especially the emphasis on isolation of students who are ill.
Copyright 2018 The Lawrence Journal-World. All rights reserved. This material may not be published, broadcast, rewritten or redistributed. We strive to uphold our values for every story published.