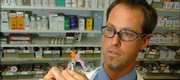 An outbreak of H1N1 Swine Flu was reported in Mexico in April 2009. By the end of May, it had spread across the U.S., with all 50 states reporting cases.
At Kansas University, the number of swine flu cases tripled over the weekend.
According to KU spokesman Todd Cohen, 47 of KU's 27,000 students were presenting swine flu symptoms on Monday.
KU officials are are asking anyone who may have flu symptoms to stay home until their temperature is at a normal level for at least 24 hours. Students living in the dorms who may fall ill are asked to stay in and around their rooms and away from other students until the symptoms have disappeared.
Copyright 2018 The Lawrence Journal-World. All rights reserved. This material may not be published, broadcast, rewritten or redistributed. We strive to uphold our values for every story published.