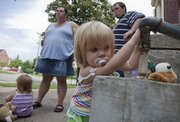 Three-year old Jozlyn Johnson stands on the front porch, preparing to pet a baby python.
"No honey, not on its head," says the large man with the python wrapping around his arm. He nods approvingly when the toddler begins to stroke the snake's lower half.
Welcome to perhaps the oddest daycare in Lawrence.
It's the Lawrence Community Shelter, the city's lone homeless shelter. And, as the national economic slump persists, it is increasingly becoming a makeshift home for families with young children.
"This is kind of new for us," said Loring Henderson, the director of the shelter. "I didn't know there was going to be so many families, and so many children in particular."
On Monday evening, for example, 19 of the shelter's 53 beds were filled by parents and their children. Henderson said there were 10 children sleeping in the cramped quarters on that night.
Jeanette Collier, coordinator for Douglas County's ECKAN operations, said there could be many more.
"If I sent him all the families I'm dealing with, they would take up all the bed space," Collier said.
Collier — whose organization provides rental and utility assistance and operates a food bank — said there has been an increase in the number of families falling into homelessness.
"There are a lot of new faces these days," Collier said.
She said statistics kept by the Ballard Center in Lawrence indicated that the number of families applying for assistance through that nonprofit has increased by 45 percent since last year. The number of two-parent families has increased by about 20 percent.
"The biggest difference I'm seeing is that there are just so many new households experiencing this," Collier said. "We're seeing more and more people who have never had to access a social service agency before, and they are clueless about what is out there.
"I've seen some people who have lost their job after 30 years."
Job losses
In many cases, families are losing not one, but two jobs. That's what happened to Tausha Johnson. She, her husband Mark, and their two daughters have been staying at the Community Shelter for about three months. Both she and Mark worked at an Olathe-based screen printing company, earning $12 an hour. Both got laid off, fell behind on bills, and now have a whole new set of worries — like getting 3-year-old Jozlyn and 2-year-old Marcus to bed in a crowded room that doesn't go lights out until 10 p.m.
"I think the biggest worry is you just never know who walks in those doors," said Johnson. "It could be a child molester, it could be an alcoholic, it could be a lot of things. You just never know completely who your children are around."
Henderson said the shelter is making changes to accommodate the influx of families. A meeting room in the basement has been converted into a toy room. An early childhood educator has begun coming to the shelter, and the staff is working with an area daycare in hopes that the children will be able to stay there some during the day.
"This is an adult environment," Henderson said. "At the same time, the adults have been really good to them, but we still don't want them in this environment."
The shelter — since The Salvation Army closed its 42-bed shelter earlier this summer — has been splitting its facility into two rooms. In one room are people who have been drinking. In the other are families and people who have not been drinking.
Families with children also are exempt from the shelter's "lottery system" that determines who gets one of the 53 beds and who is turned away for the night.
But the increase in families has meant more people have been subjected to the lottery system. A group of single women who are homeless came to City Hall earlier this week to express concerns about single women being turned away for the night.
On some nights, the shelter has had as many as 89 people sign up for a bed, meaning that more than 35 people are turned away.
The new demand comes at a time when the shelter is dealing with new regulations about the facility's capacity. The shelter for several weeks had been allowing people it turned away to sleep on the shelter's back porch area. But city code inspectors recently told the shelter to stop that practice.
Henderson said he's fine with the new ruling because he understands that having 20 people or more sleeping around the building could be dangerous in a fire situation. But now numerous homeless individuals are sleeping in a city parking lot directly across the alley from the shelter.
The shelter is working to install a fire sprinkler system and emergency exit in the basement of its facility. That will allow for another 23 people to sleep at the shelter each night. But the city has directed the shelter to only use that space as a cold weather shelter, meaning it will be open only from Oct. 1 to April 1.
The shelter is working to move from its site at 10th and Kentucky streets to a new building at the site of the former Don's Steakhouse on East 23rd Street. But that location must still win City Commission approval, and the shelter must still launch a multi-million-dollar fundraising campaign.
Copyright 2018 The Lawrence Journal-World. All rights reserved. This material may not be published, broadcast, rewritten or redistributed. We strive to uphold our values for every story published.