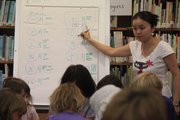 China may be thousands of miles away from Lawrence, but some at Kansas University are working to make it seem a little closer.
"One of our goals is to reach out to the community and spread knowledge about East Asia," said Megan Greene, director of the Center for East Asian Studies and associate professor of history. "We want to connect with everyone we come in contact with."
With an increasingly globalized economy featuring China as a key player, KU has stepped up its education efforts about the Asian nation. One of the biggest efforts in the past few years was the establishment of the KU Confucius Institute, which was formed in 2006.
KU's outreach was visible recently at Pinckney School. Through the Boys and Girls Club, two groups of about 20 children were sent to Randi Hacker, outreach coordinator for the Center for East Asian Studies, to learn their first words of Chinese. Starting with the word "hello," these children were immersed into Chinese language for eight days. Not only was language introduced, but culture as well.
"We teach them how to use chopsticks by calling out a color in Chinese," Hacker said. "Then they have to pick up the right color of yarn."
After receiving two development grants, the CEAS sent two non-CEAS faculty members to China to incorporate Chinese culture into their courses. Kapila Silva, assistant professor of architecture and urban planning, will incorporate traditional Chinese architecture into his ARCH 600 course. Also, Judith Major, professor of architecture and urban planning, will teach about gardens in China in her Introduction to landscape architecture course.
"The small private gardens in Suzhou are my best memories — although they were so crowded with noisy tour groups, it was difficult to understand that they were designed to be places of refuge and peace," Major said.
Major says she spent 15 days in China during May. She will be speaking about her experiences to CEAS in the fall and then planning for her spring course. She hopes to have a photography exhibit in the fall at KU as well.
If you're looking for classes that don't involve the college workload and are interested in China and Chinese language, the Confucius Institute offers many non-credit courses. Several 12-week language classes begin in September. Each week will include just one course for an hour and a half.
"We have great support from the community," said Sheree Willis, executive director of the Confucius Institute. "I think Americans are really fascinated by learning new languages and the Chinese writing system."
Because interest has greatly increased, the institute is now using advanced distance-learning technology (IDL).
With this technology, the institute can connect with three sites at a time. Teaching from the Edwards Campus, the selected locations include high schools in Kansas, Missouri and Arkansas.
Cultural workshops and programs will be spread throughout the year as well. And if you want your children to start learning about China, summer cultural and language camps are offered.
America is experiencing more influence from China as time passes, Willis said.
"We are being influenced economically, culturally, and politically," Willis said. "We need to interact with our Chinese counterparts."
Copyright 2018 The Lawrence Journal-World. All rights reserved. This material may not be published, broadcast, rewritten or redistributed. We strive to uphold our values for every story published.