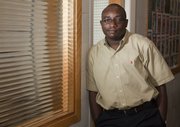 When Jide Wintoki teaches about international finance, it's from personal experience.
Wintoki is a native of Nigeria and has worked around the world, including in the Middle East, Africa and Europe.
So he understands a bit when some colleagues at other universities raised their eyebrows when he took at job as an assistant professor in the Kansas University School of Business, smack dab in the middle of the Midwest.
"People have a different perspective of being in Kansas," he said. "It's not New York. Here in Kansas, you have to look a little deeper" to find diversity.
KU has been making modest gains toward its goal of having a more ethnically diverse faculty in recent years. But with the selection of Bernadette Gray-Little as the university's first black and first female chancellor, some at KU see an opportunity to springboard diversity efforts to gain even more ground.
"I hope so," Gray Little said, when asked if her chancellorship could help add diversity to KU's faculty ranks. "I hope that it will say that this is a place that is welcoming to people of different ethnic (and) racial backgrounds, that it will say to women that women can be in leadership positions here, that it will say that you can come from another part of the country and be welcome in Kansas. So I hope that it will be helpful in our attracting faculty, staff and students of diverse backgrounds."
At the start of this decade, about 13 percent of KU's tenured and tenure-track faculty were ethnic minorities. That number was up to 16.5 percent in fall 2008, according to data from KU's Office of Institutional Research and Planning.
"There has been some improvement in terms of numbers," said Fred Rodriguez, KU's interim associate vice provost for diversity and equity. "It's safe to say there has been improvement in our diverse faculty and staff. Have we arrived? No. But we're going to continue to recruit the best and brightest to come to KU."
'Can do better'
During his tenure, departed Chancellor Robert Hemenway consistently said increasing the diversity of KU's faculty, staff and student populations was a goal. Gray-Little expects to continue that goal.
"I think it's very important," she said. "I think that how that diversity, of who it consists of, might vary depending on the place and the population in that place, but I think that it's important for the university. It's important for the experience of the people who are there, to have a diverse population of faculty, students and staff, and so that is one of the things that I will try to foster and support."
Rodriguez, a longtime KU faculty member who started his current position in July, said he's hoping to add some stability to diversity efforts at KU. Maurice Bryan, who started in the position in 2007, left this summer to become director of employment practices at California State University-Chico.
Rodriguez said a key to recruiting a more diverse faculty is to talk more about faculty members who already are at KU.
"What we can do better at KU, I'm absolutely convinced, is finding out about good stories and success stories across campus we don't know about," Rodriguez said. "We always get caught up with numbers. We want to start capturing these stories. We don't do a very good job of that. It gets the word out that KU is a pretty good place to be."
An example, Rodriguez said, is the Langston Hughes Visiting Professorship, which brings in professors to teach African and African-American studies courses at KU for one semester. Of the 11 scholars who have come in for the semester-long program, six secured full-time jobs at KU.
And he's convinced there is a carry-over from faculty and staff diversity to student diversity, too.
"I think there's a notion that if you have a more diverse faculty and staff, when students come to KU, they see individuals who look like them and have similar backgrounds, there's more of a comfort level people would have," Rodriguez said. "I think there's some real strength in that, changing gradually in that, and changing profoundly."
Quality/diversity balance
Wintoki, the business professor, said the ethnic makeup of the KU campus wasn't much of a factor when he came here. He was glad it wasn't an issue.
"It seemed like it was a warm, welcome faculty that wanted me to succeed," said Wintoki, who is entering his second year as a faculty member.
He noted that diversity comes in a variety of forms — ethnic, gender and previous experiences being among them. His international business experience, for example, has allowed him to answer practical questions posed by students about the global recession.
Wintoki said he's in favor of stepping up KU's efforts to attract a diverse faculty — but only if it increases quality as well.
"Obviously we want the highest-quality institution," Wintoki said. "We don't want to push diversity at the detriment of quality. If you can have both, that would be the best of worlds."
Copyright 2018 The Lawrence Journal-World. All rights reserved. This material may not be published, broadcast, rewritten or redistributed. We strive to uphold our values for every story published.